London Open: There's never a wrong time to take profit
Market Analysis - 4 Min Read

Stephen Innes | 16 Jul 2020
Risk statement is getting a little bit flummoxed as the NYT is reporting US congress is considering a travel ban on Chinese Communist party, but Trump may ultimately reject it. 
After the big gallop higher in stocks overnight, the Asia session is getting off to a more cautious start as keen traders are probably glossing over some of last night's price action data, which suggested rotation and profit-taking from frothy highs was the first order of business. Frankly, there's never a wrong time to book profits. 
 
US equities were stronger Wednesday, the S&P up 0.9%, following gains in Europe and Asia (though China's CSI fell 1.3%). 
Reports of an encouraging vaccine helped sentiment. In an interview with Reuters, White House infectious disease expert Anthony Fauci expressed optimism a Covid-19 vaccine will be available by the end of the year. A strong earnings report from Goldman Sachs also helped with a near doubling of trading revenue in Q2.   
The positive news around the vaccine has perhaps overshadowed or maybe even dulled fears regarding data showing a continued rapid Covid-19 case count in parts of the US. The fixation on the vaccine also meant that US-China tensions failed to gain much traction as risk appetite – even with the US administration announcing Hong Kong would lose much of its "special status" with the US – still flourished.
 
China's foreign ministry announced it would take counter-measures. Still, perhaps Trump trying to diffuse the escalation with Beijing and, at the same time, comments from White House NEC Director Larry Kudlow that China's trade deal is "still engaged" (Fox News), was sufficient reassurance for markets around US-China relations. For now, the mood is all about the vaccine.
 
Indeed, the market reaction to progress on the vaccine shows how critical it is for broader risk appetite to find a cure. 
The market's definitive shift to "risk-on" during Q2 20 was primarily predicated on an economic splurge alongside an emergence from lockdowns. So, with rolling lockdowns in the most populous US states proving to be a thorn in the market's "risk-on" side, a vaccine is critical in the current shaky Main Street narrative. 
China Data Dump
China Q2 GDP +3.2% y/y versus +2.4% consensus polled by Bloomberg; H1 GDP -1.6% y/y vs. -2.4% consensus; June IP +4.8% y/y, as expected, and retail sales -1.8% y/y vs. +0.5% consensus.
China's Q2 GDP growth beat consensus expectation, which is unambiguously positive for risk sentiment. But it's what's under the hood that matters most and China's economic data for June and Q2 show that it's easier for it to normalize the supply side of the economy, with industrial production +4.8% y/y, than the demand side with retail sales -1.8% y/y, after the Covid-19 shock. No matter how much stimulus and fiscal sugar you try to entice consumers with, they won't leave their apartment and go on a spending spree until they feel confident the landscape is virus-free. 
As for currency markets, the data speak well for exporters of commodities to China (MYR and AUD) but tells a far more challenging tale for the exporters of consumer goods into China (EUR and KRW).
Forex 
European events are in focus and a primary driver for FX (ECB on Thursday and European Council on Friday and Saturday) that could dictate whether EURUSD breaks into the 1.15-1.20 range. Fundamental support is positive for a push higher in the cross and a more pronounced narrowing in the peripheral sovereign yield spread.
While the economic surprise index is still favoring the US at this stage, EUR progressively exhibits positive sensitivity to risk sentiment that suggests it will continue to benefit from positive global equity and commodity markets.
Australia's employment data are a notoriously noisy data set, and June's report is no exception. Employment rose a larger-than-expected 210.8k (cons: 100k), from a downwardly-revised -264.1k in May. AUDUSD is mostly unmoved. The RBA's views on headwinds to the labour market recovery from targeted lockdowns in the state of Victoria and beyond will capture the market's attention in the coming weeks.
Gold
Real yields appear vulnerable as somewhat positive data, a declining covid-19 mortality rate and, most importantly, sentiment continues to elevate equities – not to mention the scary volumes of supply coming to market next week. It remains questionable how sustainable the "liquidity on " rally is sustainable for gold.
At the moment, gold remains bid against weaker US dollars, even though most currencies have bulled back from the European session highs. I think the writing is on the wall for the eventual dollar demise, which keeps the enduring bid under the gold market.
Frankly, I'm never a big fan of buying gold as a hedge for a weaker dollar. Why not just buy Euro as historical correlations have proven fruitless at times navigating this Covid-19 trading environment? I'm not even a big fan of buying gold as a hedge for Covid; we can easily buy stay at home stocks to hedge that risk. 
I am liking gold for the old-timer reflation and currency debasement trade, but that comes down the road. 
For more market insights, follow me on Twitter: @Steveinnes123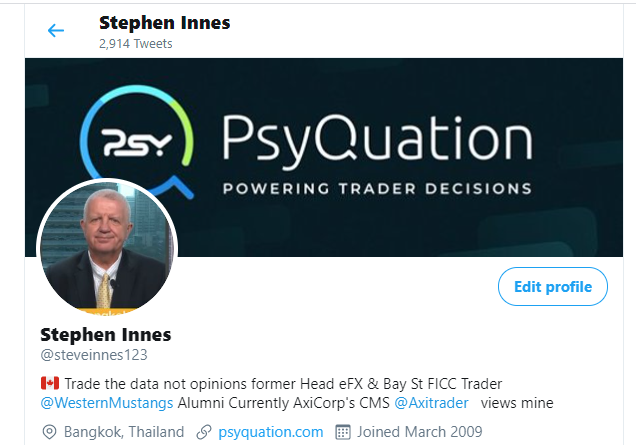 The information is not to be construed as a recommendation; or an offer to buy or sell; or the solicitation of an offer to buy or sell any security, financial product, or instrument; or to participate in any trading strategy. Readers should seek their own advice. Reproduction or redistribution of this information is not permitted.
More on this topic
See More News