London Open: Tally ho! Onwards and upwards we go!
Market Analysis - 3 Min Read

Stephen Innes | 06 Aug 2020
It feels like a massive week for equities. 
Not only is there a lot riding on the US stimulus package, but the NFP report could be the real mood-setter in the run-up to what's expected to be the bullish for everything – well, everything except the US dollar – FOMC bazooka in September.
Although economic conditions are unlikely to improve anytime soon, at least judging by comments from Fed members, investors are still happy to look through the FOMC gloom using US tech stocks to ride on the wave of lower-for-longer interest rates while reveling in the fact the Fed is unwilling to put up much of a fuss even if inflation ticks up. Indeed, this is about as much of an open invitation to strap on risk as you could ask with nary a fear that even your gold position could buckle. 
Oil prices are holding true to this week's form in Asia, specifically to wait until London gets it before preboarding the rally bus. Asia oil has an unfortunate predisposition to trade war risk and the fear of US-China tensions ratcheting higher could be holding Asia oil bulls at bay, similar to yesterday.
The latest move is US Health Secretary Alex Azar's upcoming trip to Taiwan, which will be the highest-level visit from Washington to Taipei since 1979. China will likely interpret the trip as a provocative move ahead of planned US-China trade talks on August 15. In a statement, Azar said, "I look forward to conveying President Trump's support for Taiwan's global health leadership and underscoring our shared belief that free and democratic societies are the best model for protecting and promoting health."
The statement coalesces democracy and health response to the Covid crisis, two issues that will fuel the China aspect of President Trump's re-election campaign.
But even if trade war risk fades, President Trump will be rushing the podium with his latest technology beef in hand and the nonstop barrage of China browbeating will likely extend into the November election. 
The Bank of England is widely expected to leave the Bank Rate unchanged at 0.10% today and reiterate its intention to hit GBP745 bn in asset purchases (expanded by GBP100 bn in June) by the turn of the year. GBP has scope to sell off vs. EUR, if not, the US dollar given the border UK -EU deal trends. 
The BoE's new quarterly forecasts will be in keen focus. Although the MPC is unlikely to cut rates into negative territory today or undertake more unconventional policies, the street taking the front end yields lower could foreshadow the downside risks the UK economy faces in H2 that the Committee should acknowledge today, and the GBP could fall. 
For more market insights, follow me on Twitter: @Steveinnes123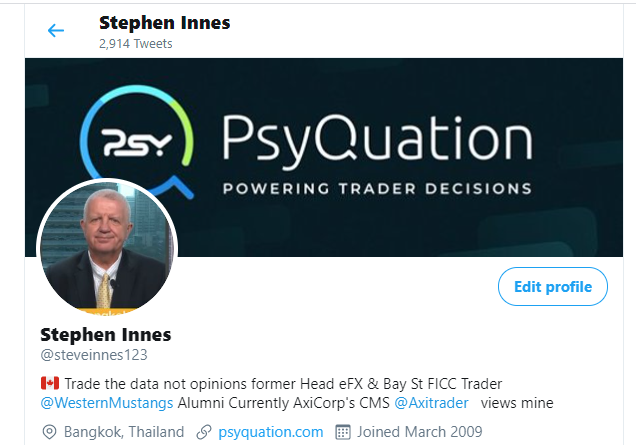 The information is not to be construed as a recommendation; or an offer to buy or sell; or the solicitation of an offer to buy or sell any security, financial product, or instrument; or to participate in any trading strategy. Readers should seek their own advice. Reproduction or redistribution of this information is not permitted.
More on this topic
See More News