Asia Open: US fiscal deal gets a sentiment boost but partisan divide remains large
Market Analysis - 5 Min Read

Stephen Innes | 06 Aug 2020
US equities were stronger Wednesday, the S&P up 0.6% following gains in Europe and a mixed session in Asia. US 10Y treasury yields were up 4bps to 0.55%. Boosting sentiment was hope that a US fiscal deal will be struck between Republicans and Democrats by Friday ahead of a scheduled summer recess next week, though there would appear to remain a reasonably large and worrying divide.
The grind higher in US equities continues with the move in rates helping the Cyclical space to outperform. Positive vaccine headlines robust economic data, and even President Trump is getting into the fortune-telling business by front-running the jobs report when suggesting Friday's payroll will be significant. 
But overall stocks remain underpinned by optimism over the coronavirus relief bill. Democrats and the White House are inching closer to a deal, and the market remains cheery that an agreement can be signed off by the end of the week. 
Gold Markets
US Treasury borrowing plans for the next three months showed larger-than-expected back-end issuance, which is driving the curve steeping move on Wednesday.
Indeed, fixed income in general was a bit soggy with Bunds and USTs under pressure. In addition to yields backing up due to new issuances (as expected) with equities performing well and fixed income having ground higher in recent sessions, it's natural to see a break in the unilateral action.
For a while the gold market didn't fuss with actual yields rising as oil prices ripping higher were feeding the gold machine and pushing real yields lower. But after shredding through another stack of stop losses between $2,040-50, the markets capitulated as oil prices came off the boil and real yields eventually backed up in a parallel fashion to actual yields.  
But for the gold market its the same story on a different day. Gold trades tangentially and seemingly on a tick to tick basis to real yields and the yellow seems pretty immune to just about everything as investors have no opportunity cost in owning bullion, except for higher real yields. Gold is still receiving two essentials for the rally to extend: debt and liquidity. But the further drop in real US yields is critical.
The economic damage is done and even a vaccine is not going to come close to replacing what's been lost. The only real cure to claw back some economic dignity is that global interest rates remain low for as far as the eye can see and even redoubled amounts government stimulus, both of which are incredibly favorable for gold fortunes.
The angst of what lies ahead is driving the US yields lower and propelling gold higher. It's only the first week of August and traders are already pivoting to the September Fed bazooka where it's expected Chair Powell will introduce some form of inflation targeting, possibly through YCC which will be sure to serve the yellow metal well.  
The yellow metal is on a ridiculous ripper +$,2050 and it seems like new buyers were attracted to the frenzy. However, strategic gold investors are still biased towards trading XAUUSD from the long side, while likely leaving some room to add on dips. 
But one has to question if this spirit can go on as I'm sure your typical gold investors still prefer gold to move higher in more of a marathon type manner. 
Currency Markets 
The Chinese Yuan 
USDCNH broke 6.9500 during London hours and it seemed like some stops went through as a large part of the market was looking at that level as support. The offshore Yuan advanced, stoked by broad-based US dollar declines and an upcoming meeting of top-level trade negotiations from the US and China. 
However, prices backed up a bit from the overnight lows as there's still there a moderate level of concern that the upcoming trade talks can always go sideways so traders could be waiting for the August 15 all-clear signal to fill the March 10 gap back to 6.90. But Asia risk is in a perfect place today judging by the critical bellwether Yuan which continues to trade sub 6.95.
The Malaysian Ringgit 
The Ringgit trades near a five-month high, spurred on by global funds chases for yield. From a real yield perspective, MGS's are standout, likely powering the Ringgit demand which is catching a tailwind from rising oil prices and the local unit's stable beta to the Chinese Yuan. With the USDCNH setting sights on 6.90, all things considered, the Ringgit could test the critical 4.175 trend line in the not-too-distant future and possibly lower on a favorable outcome from the US-China trade talks.
The US Dollar 
The dollar was teed up for failure to perfection yesterday, and it did not disappoint. 
Although we're at worse for wear levels, the USD remains on the defensive, although it's unclear whether this reflects the "risk-on" mood or general USD disdain – the truth likely lies somewhere in the middle. The market pivot to the September FOMC teed the buck up while the political discord in Washington provided the coup de gras.
In the meantime, those nasty US dueling deficits will continue to weigh mighty heavy on the US dollar outlook and, of course, raise concerns over the US dollar's status as a reserve currency. That's a virtuous circle for dollar bears.
Oil Markets 
The crude draw is more significant than expected. It was -7373k, per DoE, vs. -2309k expected in a Bloomberg poll with gas builds at 419k vs. -534k. Broadly, the move in crude inventories is in line with seasonal as inventories tend to decline through the end of September. Additionally, total stock in crude is elevated, so it has some room to catch up. 
Overall, there was little reaction in the NYMEX to the inventory data with CLU0 up nearly 4%, then profit-taking set in as traders fretted about the gasoline inventory flatline with the driving season clock ticking. 
For more market insights, follow me on Twitter: @Steveinnes123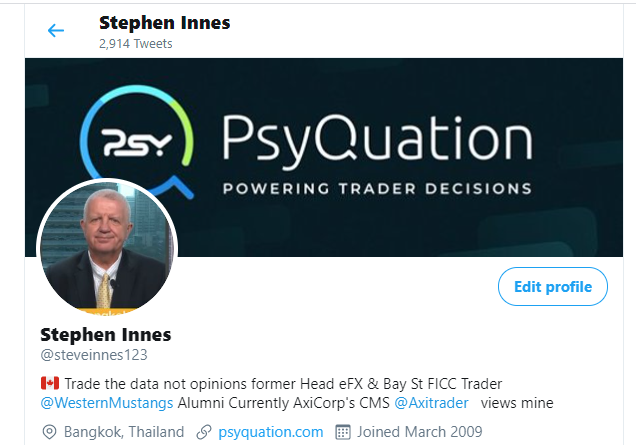 The information is not to be construed as a recommendation; or an offer to buy or sell; or the solicitation of an offer to buy or sell any security, financial product, or instrument; or to participate in any trading strategy. Readers should seek their own advice. Reproduction or redistribution of this information is not permitted.
More on this topic
See More News