Trading the Less Common Indices: What You Need to Know
There are thousands of different indices which are constantly being calculated and updated. In this article, we're going to take a look at some of the less well known equity indices on offer, how to trade them and what might be driving their price action.


Symbol: NIFTY50
Related Index: The NIFTY 50
Number of Stocks: 50
Typical Components: Tata Consultancy, Infosys, State Bank of India
Total Value of Index: $2,028,370 million (30/6/19)
The Nifty 50 is one of the benchmark Indian equity indices, accounting for over 60% of the free float market capitalisation of companies listed on India's National Stock Exchange. It is weighted according to the value of shares in circulation at any one time and is rebalanced twice a year.
Like many indices, the NIFTY 50 is designed to give an insight of the broader health of the country's economy. But with the corporate sector accounting for just a small proportion of India's GDP, the relationship may not be quite as close as is seen in countries like the US. India's ambition of rapid economic growth under the recently re-elected Prime Minister Modi are also delivering some rampant volatility for the market.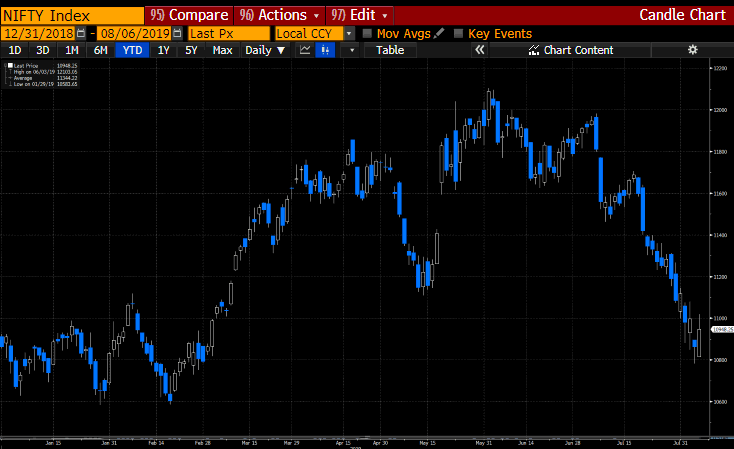 Source: Bloomberg
The index fell around 6% during the most recent general elections at the end of Apri; amd into early May, which saw incumbent PM Modi win a second term. The NIFTY 50 bounced back, although in the wake of the recently announced budget, shares have been pressured once again. Macroeconomic indicators show the Indian economy is slowing and despite interest rates being cut, shares are being squeezed.
Symbol: CHINA50
Related Index: FTSE China A50
Number of Stocks: 50
Typical Components: Ping An Insurance, Bank of China, China Shipbuilding Industry
Total Value of Index: CNY5,594,000 million (31/7/19)
Banking and other financial services stocks dominate this index, accounting for around one third of its total market capitalisation. Index constituents are reviewed quarterly to ensure they remain representative of the underlying national market, but as with India, China remains an economy which attempting to manage a slow-down following a period of robust growth. A domestic deceleration combined with Donald Trump's trade war aimed largely at China left the index reeling through 2018, falling from over 14,750 to under 10,400 across the year.

Source: Bloomberg
Although the start of 2019 saw the index stage a recovery on hopes that the trade dispute would be resolved along with policy easing by China's central bank, a lack of progress over trade talks meant this was short lived. The situation continues to deteriorate with China devaluing its currency and the US threatening a further round of tariff increases in September 2019.
Symbol: IT40
Related Index: FTSE MIB (Milano Italia Borsa)
Number of Stocks: 40
Typical Components: Ferrari, Pirelli, Unicredit, Juventus
Total Value of Index: EUR285,000 million (07/08/19)
Again, this is a market cap weighted index, although the maximum weighting of any constituent is limited to 15%, to ensure that one big stock doesn't disproportionately distort the performance of the index. The Italian economy has faced a series of challenges in recent years and these have been played out in the index. Back in October 2018, the new Italian government threatened to breach Eurozone imposed borrowing limits, which would have set Rome's budget on a collision course with senior politicians in Brussels. The benchmark index fell sharply as a result.
The evolving political scene in Italy, a slowing Eurozone economy and the looming possibility of US trade tariffs being levied on European car manufacturers are just some of the factors which could serve to heighten volatility for the Italian equity index in the months ahead.
Symbol: VIX
Related Index: Volatility Index Future
Number of Stocks: n/a
Typical Components: This measures the market's expectation of volatility over the next 30 days, based on options pricing of the S&P500.
Total Value of Index: n/a
This is a different type of index but remains worthy of note. Sometimes known as the 'fear gauge', the index measures volatility expectations for the S&P 500 - one of the major US equity indices. Looking at the chart below, the big spike which sent the index briefly above 80, the highest level ever recorded, ties in with the peak of the Global Financial Crisis just over a decade ago.
Source: Bloomberg
The cyclical nature of the index means that it repeatedly falls back after anticipated bursts of activity, although as the chart illustrates these 'spikes' can last anything from a few days to many months.  
Read more market views from Team AxiTrader: https://www.axitrader.com/ae-en/news/.
The information is not to be construed as a recommendation; or an offer to buy or sell; or the solicitation of an offer to buy or sell any security, financial product, or instrument; or to participate in any trading strategy. Readers should seek their own advice. Reproduction or redistribution of this information is not permitted.