Weekly Preview: Trade war escalates with China retaliating to additional $110bn tariffs
Market Analysis -

AxiTrader Team | 02 Sep 2019
USD: Friday's Nonfarm Payroll in focus, U.S. economy still strong among G7 
GBP: Brexit uncertainty continues to weigh on currency
EUR: Eurozone's PMI, GDP and employment data in focus
AUD: RBA rate meeting in focus amid trade tension escalation 
CAD: BOC meeting in focus this week 
CURRENCY: USD
FUNDAMENTAL ANALYSIS ON USD
USD edged up due to its economic outperformance as compared to the rest of the G7 countries. Growth of U.S. gross domestic production (GDP) in the second quarter was revised down to 2 percent from an initial estimate of a 2.1-percent pace. However, U.S. consumers remain resilient even though investment slowed down. Friday will see the release of retail spending came with 0.6% expansion MoM vs 0.5% market consensus. The consumers make up at least 70% of U.S. GDP and if the consumers are resilient, the economy still stay robust.

However, core durable goods orders declined by 0.4%, the first decline in six months. Friday's UoM consumer confidence came with a downside surprise, which dropped sharply to 89.8 in July, down from 98.4 in June. This marked the first time that the key confidence indicator has dropped below the 90-level since October 2014. The data has limited impact on USD as one data disappointment is hard to change investor's favour over USD. This week's focus is Friday's NF payroll, which should show the job market is still robust. In total, due to the weaknesses of other currencies as trade tariffs escalate, USD could still benefit as the U.S. economy remains robust after all.
CURRENCY: GBP
FUNDAMENTAL ANALYSIS ON GBP
Brexit uncertainty continue to cloud any optimistic outlook for the Sterling as Johnson obtained approval from the Queen to suspend the Parliament next week, increasing risks of a no-deal Brexit. Elsewhere, on the data front, investors will be keeping a close watch on the Manufacturing PMI data and BRC retail sales data where missing estimates could fuel the currency's decline. Looking ahead, for this week, we expect the Sterling to remain under pressure as the Brexit deadline looms closer, and with the Parliament suspended next week, it limits the amount of time they have to come up with a plan to block a no-deal Brexit, increasing risks of a no-deal Brexit, which could put the Sterling under renewed pressure.
KEY TECHNICAL LEVELS ON GBPUSD (D1) Source: TradingView 
(Charts by TradingView)
GBPUSD is approaching our first resistance level which is a 50% Fibonacci retracement and horizontal overlap resistance.
Try taking a GBP/USD trade on our AxiTrader WebTerminal!
CURRENCY: EUR
FUNDAMENTAL ANALYSIS ON EUR
This week investors will be seeing a slew of data with the Eurozone's PMI, GDP and employment data in focus, where anticipation of these data could drive the currency lower. Elsewhere, the risk off market sentiment as Trump escalates trade war with China with additional tariffs did little to help buoy the EUR as investors take flight to safe haven currencies. Meanwhile, with the  market pricing in a rate cut by the ECB this month, we could be seeing the EUR edge lower. 
KEY TECHNICAL LEVELS ON EURUSD (H4) 
Source: TradingView
EURUSD is approaching resistance which is also a horizontal pullback resistance, 61.8% fibonacci extension, 23.6% fibonacci retracement. Ichimoku cloud is also showing signs of a bearish bias.
CURRENCY: JPY
FUNDAMENTAL ANALYSIS ON JPY
Earlier Monday morning, the purchasing managers' index (PMI) for China's manufacturing sector dipped to 49.5 in August from 49.7 in July. A breakdown of the data showed manufacturing production maintained expansion, but market demand moderated amid a complex economic environment, NBS senior statistician Zhao Qinghe said. This deepens the worries about global economic slowdown as the world's "growth engine" is slowing down consecutively. The yen climbed and the yuan retreated.
The U.S-China trade war has escalated over the weekend, as new tariffs on both sides took effect on September 1. The U.S. imposed new 15% tariffs on $125 billion worth of Chinese goods, while China has retaliated with new tariffs of 5% and 10% on an unspecified value of U.S. goods, including oil imports. It is the first time that U.S. oil has been targeted since the world's two largest economies started their trade war more than a year ago. A further tranche of 15 percent U.S. tariffs on US$160 billion of Chinese goods is set to come into effect on December 15, hitting further consumer goods such as smartphones, laptops, and clothing. As we know that tariffs are not the way to solve the problem according to the Chinese and Beijing has shown determination to promote internal growth rather than give in to the threat. With the two parties raising tariffs on each other, it is no good sign for a peaceful trade talk. Safe haven could go up in another round of risk aversion wave.
KEY TECHNICAL LEVELS ON USDJPY (H4)
Source: TradingView
USDJPY is approaching 1st resistance (horizontal swing high resistance, 100% Fibonacci extension,50% Fibonacci retracement).
Try taking a USD/JPY trade on our AxiTrader WebTerminal!
CURRENCY: AUD
FUNDAMENTAL ANALYSIS ON AUD
AUD slipped as trade tensions escalate after China and U.S. started additional tariffs. Added to the trade tensions are China weak PMI data. Earlier Monday morning, the manufacturing purchasing managers' index, released by the National Bureau of Statistics on Saturday, was 49.5 in August, which showed the manufacturing is still in the contraction area.
However, what brings AUD support is the private PMI number released later on Monday. China Caixin PMI number for August came in 50.4 vs 49.8 expected vs 49.9 prior. Manufacturers' output expanded at the fastest pace since March, the survey showed. Companies that reported higher output generally linked this to firmer client demand, although the anemic growth rate was weaker than the historical average, according to the survey. New orders placed with goods producers grew at a slower pace in August compared with the previous month, while new export orders declined at the fastest pace since November, with firms often linking lower export sales to weaker global demand and the ongoing China-U.S. trade dispute.
The focus for the week is the RBA, which is unlikely to cut this time but may sending rate cut signal for November. AUD is likely to go weaker if RBA do confirm the cut in November as market expects. Factoring in uncertainty surrounding Australia's economy as it awaits more economic data and policy decisions, AUD could face increasing pressure.
KEY TECHNICAL LEVELS ON AUDUSD
Source: TradingView
AUDUSD is reacting above 1st support 0.6727 (100% Fibonacci extension, horizontal swing low support)
CURRENCY: NZD
FUNDAMENTAL ANALYSIS ON NZD
China's official purchasing managers' index (PMI) data in Aug showed little sign of progress. The headline manufacturing PMI remained in the contraction region with 49.5 mark versus 49.7 market consensus whereas Non-Manufacturing PMI crossed 53.6 forecasts to 53.8. The escalation of trade tensions is keeping a cap on both AUD and NZD. On the economic calendar, on Monday morning, China's manufacturing activity expanded in August after shrinking for two months as factory output grew at its fastest clip in five months,according to Caixin PMI. This could bring some support to NZD, but this may be short-lived before more evidence comes on the table to show the China economy is bouncing from the bottom.

This week NZD will follow closely on RBA, if RBA gives more signals about another cut this year, RBNZ is likely to follow, thus bringing additional pressure on NZD.
KEY TECHNICAL LEVELS ON NZDUSD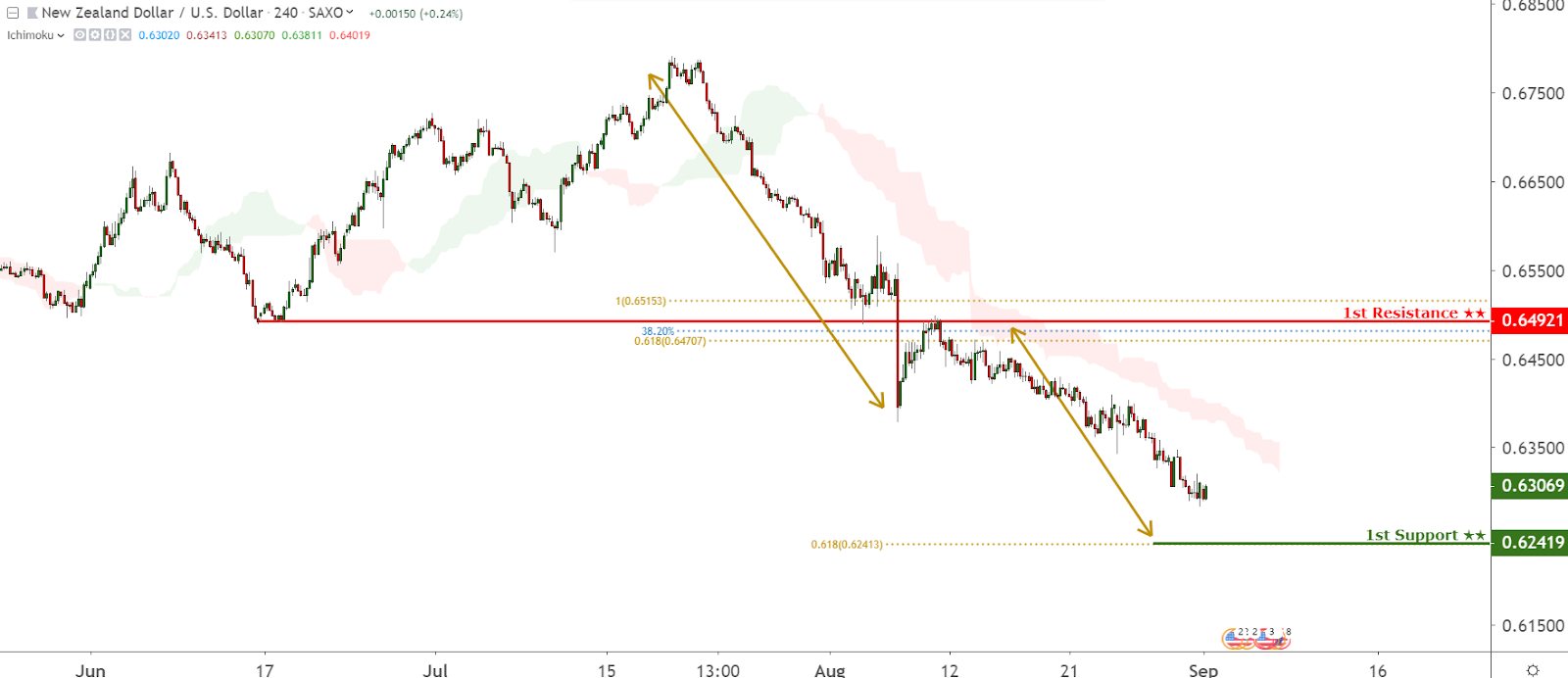 Source: TradingView
NZDUSD edging lower towards 1st support at 0.6242 (100% Fibonacci extension) and Ichimoku cloud is indicating bearish cloud.CURRENCY: CAD
FUNDAMENTAL ANALYSIS ON CAD

This week we will be seeing a slew of data with the PMI, BOC's monetary policy meeting and employment data in focus. We lean towards a bearish bias for the currency as BOC will probably use the upcoming monetary policy meeting to lay the groundwork for further rate cuts ahead, which could cause CAD to plunge. Elsewhere, the risk off sentiment could put the commodity currency under further pressure as trade war between China and US escalates, with Trump imposing additional tariffs on $110 billion of Chinese imports and China's retaliation.
KEY TECHNICAL LEVELS ON USDCAD
Source: TradingView

USDCAD holding below its resistance at 1.3350 (61.8% Fibonacci retracement, horizontal swing high resistance). 
The information is not to be construed as a recommendation; or an offer to buy or sell; or the solicitation of an offer to buy or sell any security, financial product, or instrument; or to participate in any trading strategy. Readers should seek their own advice. Reproduction or redistribution of this information is not permitted.
More on this topic
See More News