Weekly Preview: President Trump claims productive trade talks with China
Market Analysis -

AxiTrader Team | 19 Aug 2019
USD: FOMC minutes and Jackson Hole meeting on focus
GBP: Sterling extends its decline as Brexit deadline looms
EUR: G7 meeting towards the end of the week in focus
AUD: Risk aversion keeping a lid on commodity currencies
CAD: US-China trade war and fluctuating oil prices keep the Loonie mixed
CURRENCY: USD
FUNDAMENTAL ANALYSIS ON USD
Last week, USD edged up after the stronger-than-expected U.S. July Retail Sales report. On Friday, Wall Street advanced for a second consecutive day, while the yield on the benchmark 10-year Treasury note recovered from 1.47% to settle at 1.56%, underpinning the pair. It helped dampen financial markets' fears that the U.S. economy was heading into recession.The recovery came after US President Trump referred to "productive" trade talks with China. That said, the better market sentiment is quite fragile as the fundamentals related to the global economic downturn are still present. 
According to economic adviser Larry Kudlow, there is no recession in sight. Consumers are working. Their wages are rising. They are spending and they are saving. USD could continue to gain strength. This week's focus is annual Jackson Hole gathering on Friday, where Federal Reserve Chairman Jerome Powell's will give clues on whether U.S. policy makers will add to July's rate cut.
CURRENCY: GBP
FUNDAMENTAL ANALYSIS ON GBP
The Pound remains under pressure as Brexit deadline on 31 Oct looms and with the EU and Johnson's government showing no signs of progress, it increases the risk of a no-deal Brexit which could push Britain's economy into a recession. Meanwhile, a leaked government document reported that likely consequences of a no-deal Brexit includes a shortage of fuel, food and medicine along with job losses and a disruption at its ports as long as 3 months with a no-deal Brexit. The report also warned that the supply of fresh food could be reduced and critical elements of the supply chain including ingredients, chemicals and packaging may be affected as well.
On the data front, it is a light calendar week for the Pound and we are likely to see it shrug off any optimism from better than expected data readings, should there be any. Elsewhere, the currency could extend its decline as Johnson ramps up his Brexit warnings, according to reports by Telegraph where "Johnson will travel to Germany and France to insist to Emmanuel Macron, the French President and Angela Merkel, the German Chancellor that the Parliament cannot stop Brexit. He is expected to tell them that they have 2 months to agree to a deal acceptable to the Cabinet and Parliament, without which the UK will exit without an agreement on Halloween."
KEY TECHNICAL LEVELS ON GBPUSD 
 Source: TradingView
GBPUSD is trading between our first support level which is a 23.6% Fibonacci retracement and horizontal pullback resistance.
Trade GBPUSD with AxiTrader. Open a Live trading account now.
CURRENCY: EUR
FUNDAMENTAL ANALYSIS ON EUR
EUR remains under pressure as slower global growth amid rising trade tensions continue to weigh on the economy. This week, we will be seeing a slew of data with the Eurozone's CPI, Germany's Producer Price Index data and PMI data in focus. Looking ahead, with the G7 meeting at the end of the week, EUR might shrug off any optimism in its economic data and edge lower as Trump's comments made at a rally in New England could signal potential auto tariffs that has been previously delayed. He indicated that "The European Union is worse than China, just smaller. It treats us horribly: barriers, tariffs, taxes," he told a crowd Thursday in Manchester. While this is not the first time that he has gone there with the EU, the Eurostat numbers did not help the continent's case with Trump, who sees a ledger with more exports than imports as winning. The EU's trade surplus with US stood at almost 75 billion euros in the first half of 2019, up from more than 11% a year earlier. Germany's surplus is by far the largest in the bloc.
Elsewhere, Trump is also in the middle of a 6 month delay in deciding whether to impose auto tariffs on imports, a decision that would come in mid-November which could heightened trade tension between the EU and the US as Brussels would likely retaliate and this could push Germany's economy into a recession. Meanwhile, Germany's Finance Minister Olaf Sccholz suggesting that it could spend extra $55 billion if crisis hitss as Europe's biggest economy contracted in the last quarter. Elsewhere, Germany's output fell 0.1% in the second quarter, paired with a slump in business expectations, the data raise the risk that Germany is on the verge of entering a recession, the first in more than 6 years. The pessimistic outlook surrounding the Eurozone could put further bearish pressure on the EUR.
KEY TECHNICAL LEVELS ON EURUSD (H4) 
Source: TradingView
EURUSD is trading in between our first support and first resistance which is a horizontal swing low support and 61.8% Fibonacci extension and horizontal overlap resistance and 61.8% Fibonacci retracement respectively.
Trade EURUSD with AxiTrader. Click here to open your account.
CURRENCY: JPY
FUNDAMENTAL ANALYSIS ON JPY
Traders began to sell the Japanese Yen late in the week as Treasury yields firmed, stocks rose and the U.S. Dollar strengthened as stronger-than-expected U.S. economic data eased fears that the U.S. economy could be headed for a recession. Last week, the Producer Price Index came in lower than expected. Tertiary Industry Activity and Preliminary Machine Tool Orders also failed to meet expectations. Core Machinery Orders and Revised Industrial Production performed better than expected. JPY may suffer as the risk aversion wanes.
KEY TECHNICAL LEVELS ON USDJPY (H4)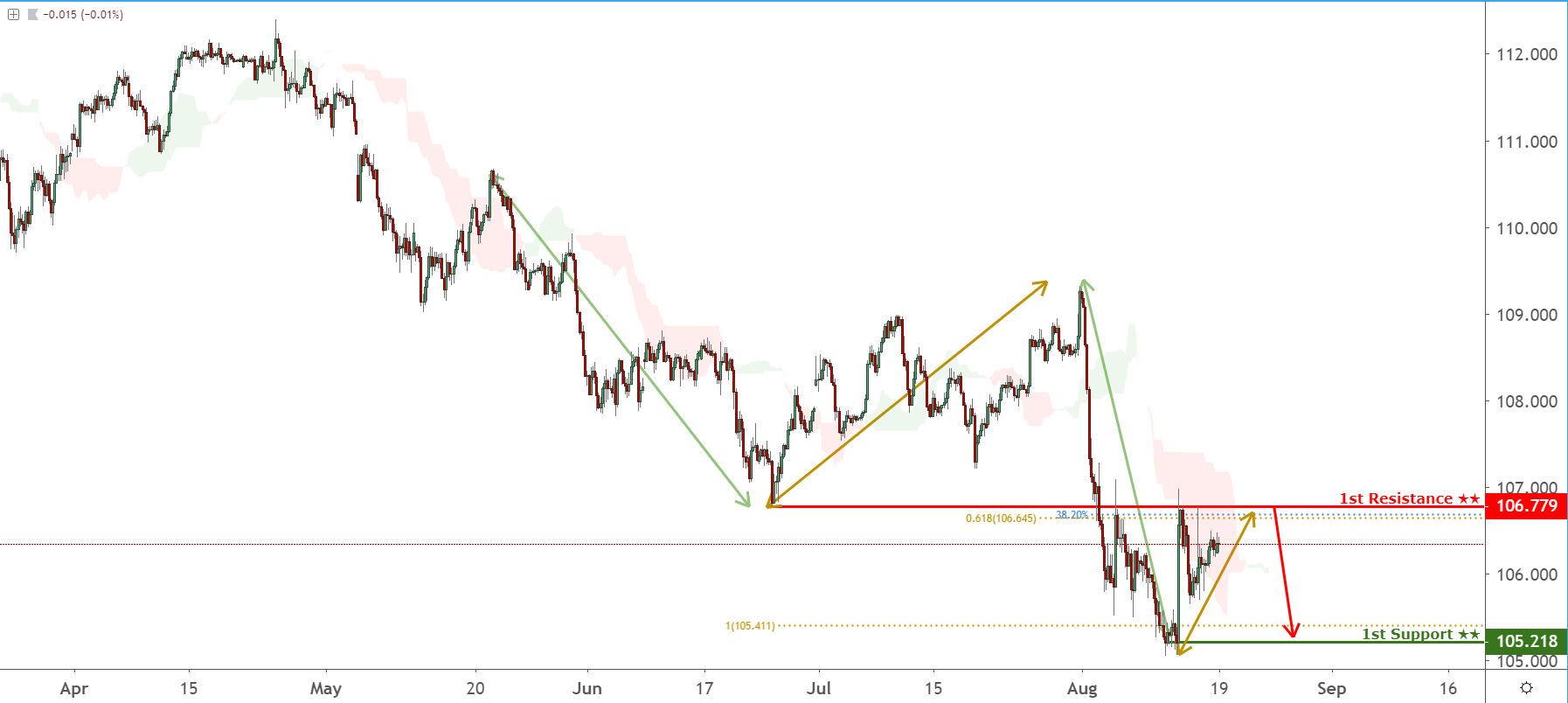 Source: TradingView
USDJPY is approaching 1st resistance (horizontal swing low support, 61.8% Fibonacci extension,38.2% Fibonacci retracement).
Trade USDJPY with AxiTrader. Open an account here.
CURRENCY: AUD
FUNDAMENTAL ANALYSIS ON AUD
AUD has been mixed over the week with fluctuating signals from US-China trade deal as well as market sentiments. Despite President Trump signals that a trade talk with China are progressing well, he has yet to show a clear signal that any trade deal will be signed. Gains on the AUD however were also as the U.S also labelled Huawei as a security threat. Josh Frydenberg, Australia's Treasurer, in a recent interview mentioned that while Australia was well-placed as a nation to deal with any fallout regarding the US-China trade deal, he would prefer that the parties involved in the trade talks would make rational decisions, as Australia has a strong trading relationship with China and that 1 in 5 Australian jobs are actually connected to trade. Given the mixed sentiments, we are watching RBA's announcements following their meeting tomorrow morning and we expect AUD to remain mixed for now. 
KEY TECHNICAL LEVELS ON AUDUSD

AUDUSD is trading between 1st resistance 0.6829 (38.2% Fibonacci retracement, 100% Fibonacci extension) and 1st support at 0.6697 ( 100% Fibonacci extension, horizontal swing low support).
CURRENCY: NZD
FUNDAMENTAL ANALYSIS ON NZD
The lack of positive developments surrounding the US-China trade conflict continues to keep investors away from antipodeans. This was due to US President Donald Trump's latest "tweet-attack" on Huawei despite also mentioning recently that the US and China are "doing very well... and talking". Given the strong correlation with the AUD and that China is also one of New Zealand's dominant trading partner, we expect NZD to remain mixed for now, whilst watching for further developments on the US-China trade tension.
KEY TECHNICAL LEVELS ON NZDUSD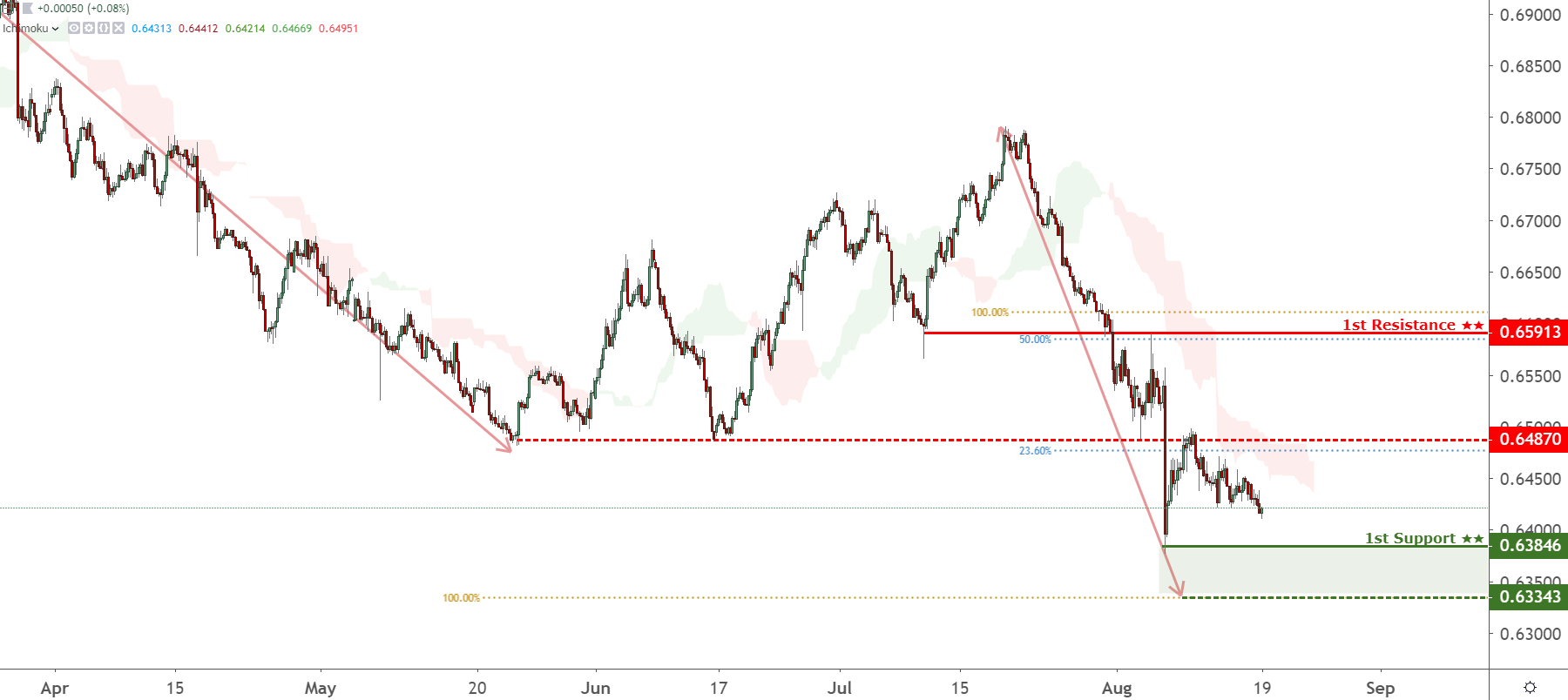 Source: TradingView

NZDUSD is approaching its 1st support area 0.6384 (100% Fibonacci extension, horizontal swing low support).
CURRENCY: CAD
FUNDAMENTAL ANALYSIS ON CAD

The CAD traders seem to be troubled between mixed signals from the upbeat WTI prices and challenges to the US-China trade deal, not to forget about China's latest measures towards a free-floating currency system. It should also be noted that the PBOC recently announced measures to alter their bank loan rates and some additional modifications to the policies that govern them. Prices of Oil, Canada's largest export item, also extend Friday's recovery as rising optimism propels the energy prices. Although pessimism surrounding a trade deal between the US and China, coupled with global recession fears, can keep exerting downside pressure on the overall market sentiment, the USD strength will be closely observed ahead of this week's key events like latest monetary policy meeting minutes from the US Federal Reserve and global policymakers' speech at the Jackson Home Symposium.
KEY TECHNICAL LEVELS ON USDCAD
Source: TradingView


USDCAD is in between its resistance at 1.3343 (61,8% & 78.6% Fibonacci retracement , horizontal swing high resistance) and its support at 1.3182 (100% Fibonacci extension, 50% Fibonacci retracement).
The information is not to be construed as a recommendation; or an offer to buy or sell; or the solicitation of an offer to buy or sell any security, financial product, or instrument; or to participate in any trading strategy. Readers should seek their own advice. Reproduction or redistribution of this information is not permitted.
More on this topic
See More News