Week in Review: Trade Tensions Eased with US GDP, BoE Interest Rates Decision in Focus
Market Analysis -

AxiTrader Team | 26 Apr 2019
China will host US negotiators in a new round of trade negotiations in Beijing next week, though even as talk of truce continues, Asia's trade is still hurting.

Manufacturing PMI next week will give an early read on how China's economy is holding at the start of 2Q.

Australia's home prices data next week will be closely watched as it gives further confirmation of a possible rate cut.

Margin traders pile into JPY long positions ahead of Japan's Golden week


Currency: GBP
FUNDAMENTAL ANALYSIS ON GBP
Pound extended its losses as Prime Minister Theresa May pushed to get Brexit a deal through the parliament by the end of the month adding on to the political and economic uncertainty, further denting investors' confidence. Meanwhile, softer economic data from EUR's IFO business climate did not help with the sentiment. Along with that, Public Sector Net Borrowing data fuel the decline as it recorded a £0.84B deficit as compared to estimates of a  £0.400B surplus, adding on to the bearish pressure. Next week, BOE will be announcing their interest rates decision where it is likely to be unchanged and a dovish tone could cause a further slide in the currency.
KEY TECHNICAL LEVELS ON GBPUSD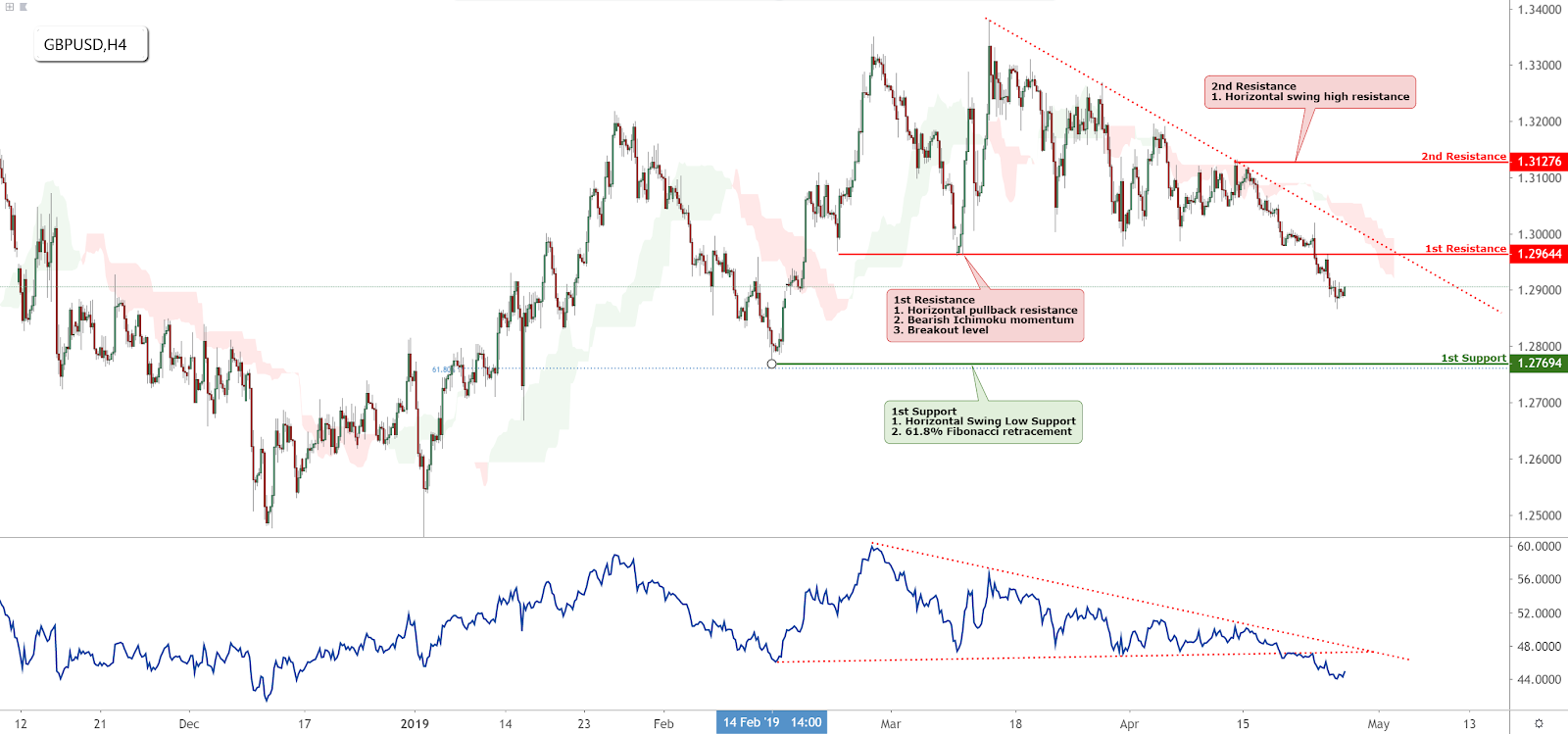 This week we saw price break our major support-turned-resistance level at 1.2964. There is strong bearish momentum from the Ichimoku cloud and also the descending resistance line putting further pressure on GBPUSD after it has broken the key support level. Our next key support is at 1.2769.
We can also see RSI making a bearish breakout along with facing bearish pressure from its descending resistance line, corresponding to the picture we're seeing in price.


Currency: EUR
FUNDAMENTAL ANALYSIS ON EUR
This week, IFO data missed estimates, causing the EUR to slide further. The IFO expectations were 95.2, missing estimates of 96.1 while Business Climate and Current Assessment came in at 99.2 and 103.3 respectively, both falling short of estimates of 99.9 and 103.6. The surprise drop in German business morale highlighted concerns of a slowing economy weighed down by ailing growth in Germany and political uncertainty in Spain. Currently, the industrial sector seems to be slowing down the economy while domestic demand remains an important pillar of support. Moving forward, tightened screws on Iran sanctions might add bearish pressure to the currency as EU struggles between abandoning or pursuing the original plan of facilitating trade with Iran and facing sanctions themselves. Elsewhere, the currency is also exposed to threats of tariffs on auto and autoparts from the US which might result in a further decline. Next week, we will also be seeing key economic data on PMI, CPI and GDP which might add on to the bearish pressure.
KEY TECHNICAL LEVELS ON EURUSD
EURUSD has broken a key support-turned-resistance area at 1.1177. We can see bearish momentum from our bearish Ichimoku cloud too. There is a similar picture in RSI where it has broken a key ascending support-turned-resistance line. Our next key support is at 1.1061.


Currency: USD
FUNDAMENTAL ANALYSIS ON USD
The USD weakened after filings for US unemployment benefits rose the most since late 2017, while still remaining in the range of what's considered a tight labor market. Jobless claims rose 37,000 to 230,000 in the week ended April 20. The USD recovered some of its losses and holds steady amid economic uncertainty where investors flee to safe havens. Adding to that, the US seems to be outperforming the rest of the world. However, investors hold back from making any aggressive bets ahead of the US's GDP data to be released later today. This will be closely watched for clues as to how the economy responded to the government shutdown and fallout from the fourth-quarter market rout, and how resilient the US is during this economic slowdown.


Currency: JPY
FUNDAMENTAL ANALYSIS ON JPY
BOJ kept their interest rates unchanged and is expected to continue its monetary easing policy. This week, demand for the safe haven currency rose as market's risk appetite shrink amid softer economic data from Australia and the Europe. Meanwhile, traders are building up their long positions on yen, ahead of the 10 days public holiday to mark the new imperial era. According to data from Tokyo Financial Exchange, traders' net long positions were at 20613 contracts as of April 23, which is worth $2.09 billion. The spur in demand for safe haven currency could be driven by the upcoming shut down where a sharp drop in liquidity in the absence of an estimated $400 billion daily turnover from Japan raised fears of a repeat of the flash crash seen in January.
KEY TECHNICAL LEVELS ON USDJPY
USDJPY has broken our ascending support-turned-resistance line and reacted off our 112.22 resistance level really well. This can also be seen in how RSI has broken a key support-turned-resistance line too. The next key support is at 110.89.
Currency: AUD
FUNDAMENTAL ANALYSIS ON AUD
The AUD had a pressurizing week with its CPI data coming in below-forecasted rates. Refueling speculations of a possible rate cut as early as May. However, with Australia's elections due on the 18th May, they may very well keep rates unchanged to avoid too much volatility in the market. Survey data in Asia's week ahead will give an early read on how China's economy is holding up at the start of 2Q. It is widely anticipated that the official manufacturing PMI will remain in the expansionary territory - signaling further stabilization. This could help support the pressured AUD. Australia's home sales data will also be released next week which will be closely watched as the Australian economy has been under pressure especially because of their ailing property market with prices falling across the country.


Currency: NZD
FUNDAMENTAL ANALYSIS ON NZD
NZD strengthened after RBNZ Governor Adrian Orr told NBR that he isn't "particularly worried" about a recent slowdown in the nation's economic growth. In a relative sense compared to many parts of the world, "we're in a pretty good spot". China's manufacturing data will be released next week which could either support or cause the heavily sentiment related currency to crash. In addition, any data that points to a weakening Australia economy will drag the NZD down with it.
KEY TECHNICAL LEVELS ON NZDUSD
NZDUSD has bounced off our previous support highlighted at 0.6585 really nicely. On Stochastics, we can see it is bouncing nicely off key support at 2.3% and is displaying strong bullish divergence vs price. The next big resistance to look out for is 0.6709.


Currency: CAD
FUNDAMENTAL ANALYSIS ON CAD
BoC kept its policy rate unchanged at 1.75% but abandoned its bias towards higher rates, instead of looking to "evaluate the appropriate degree of monetary policy accommodation" and removing reference about the timing of future rate increases. However, it managed to recover some of its losses when Governor Poloz noted that the Bank's policy outlook would be data dependent and that if the Bank's forecast were right then interest rates were more likely to go up than down. Still, CAD is left in a vulnerable position amid oil supply uncertainty. Any news on oil supply constraint will support the leading exporter of oil's currency.
KEY TECHNICAL LEVELS ON USDCAD
USDCAD has broken a major resistance-turned-support level at 1.3461 and there is a similar picture we're seeing on RSI too where it has broken a descending resistance line. There is a bullish Ichimoku cloud adding bullish pressure to price. The next big resistance level to look out for it 1.3615.
The information is not to be construed as a recommendation; or an offer to buy or sell; or the solicitation of an offer to buy or sell any security, financial product, or instrument; or to participate in any trading strategy. Readers should seek their own advice. Reproduction or redistribution of this information is not permitted.
More on this topic
See More News