Markets Outlook: Refocusing the China coronavirus debate
Market Analysis -

Stephen Innes | 10 Feb 2020
Weekly Wrap
Markets have taken the view that the coronavirus outbreak will be contained. News out of China overnight supports this narrative, with the number of new cases falling for the first time yesterday.
Still, ASEAN equity markets de-risked and the local currency market is USD hedged as it makes sense for investors in Asia-focused assets to wait until after the weekend before adding more risk to ensure there is further evidence of containment.
Asia currency markets have been remarkably orderly thanks to the PBoC and other government agencies who continue to lay monetary policy and verbal intervention on thick and heavy. Last Friday the People's Bank of China's Deputy Governor Pan said they will boost counter-cyclical adjustments and keep markets stable while hinting at additional MLF and LPR cuts in February.
However, late on Friday, risk got getting smacked as Singapore raised its coronavirus response level to orange from yellow and the market jumped into sell now, ask questions later mode.
Still, with fear of the coronavirus fading outside of Asia (it was never particularly significant in the US and Europe), the market response could be limited globally.
The response in Asia FX currency land has been swift and decisive, with USDCNH moving through 7.00 with the FX China betas all following suit. Predictably, USDKRW and AUDUSD showed the highest Asia FX and G-10 FX correlated beta to virus news rather than the higher-yielding USDINR, USDIDR and USD PHP.
There was a surprising degree of risk complacency – at least that was the case until Friday when gamma caught a bid tone across the board in G10 and USDAsia as investors didn't want to be caught out in the event of any escalation of the coronavirus outbreak over the weekend.
As for the Non-Farm Payroll report, it was strong but perhaps influenced by the balmy winter weather along the US eastern seaboard. It would be a big mistake to interpret the price action (equities lower, risk having a harder time) as a reflection of the payroll report.
The payroll report did not provide much in the way of fresh guidance on the state of the US economy. Instead, markets correctly focused elsewhere as the much more significant determinant of risk present and future is a coronavirus knock-on effect. 
Week Ahead 
US Markets 
This week's economic calendar will feature an agglomerate of Fed content for market participants to wade through, in particular Chair Powell's Humphrey-Hawkins testimony before the House Financial Services (Tuesday) and the Senate Banking Committees (Wednesday). As with previous Humphrey-Hawkins statements, the Chair is speaking on behalf of the Committee and will most likely stick to the script laid out in his comments at the January FOMC press conference and last week's Monetary Policy Report.
While that Monetary Policy Report noted that downside risks to the outlook had receded towards the end of last year, the coronavirus presented a new source of uncertainty concerning the Fed's global growth expectations. And with the level of complacent in the global risk market, investors may not have fully priced the damaging knock-on economic effect from China's virus tumult. 
Asia Markets
Things should start to heat up as we get into the heart of February; after a bumper January PMI report, markets are now intently focused on how the coming year will unfold.
In response to the 2019-nCov virus outbreak, economists have not only downgraded economic assessments but have added rate cuts to their base case across the ASEAN region, including South Korea. Last week saw pre-emptive policy measures with the Bank of Thailand and Banco Philippines cutting policy rates, and Singapore MAS verbally intervening on the SGD Neer, all of which should set the stage for other central banks across the region to cut interest rates. If you currently don't think that massive ordnance of monetary stimulus is about to get dropped on the market, maybe this week's regional economic data might convince you otherwise.
South Korea's 10-day export data may garner more attention than usual as the market tries to assess potential knock-on effects on other economies further. In contrast, LNY holiday effects continue to dominate high-frequency data.
The degree investors are willing to look past weak China high-frequency data could set the risk tone for the rest of the month and will help determine whether last week's risk rally has the legs to run.
Asia calendar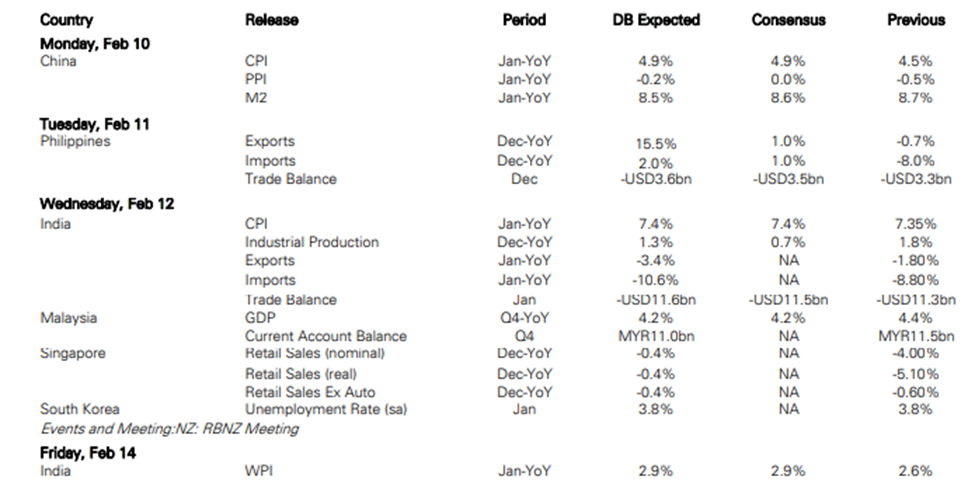 Deutche Bank
For Asia FX, the question is what beats hollow: a modestly higher fix for USDCNY, or acute equity market weakness? Who knows. Little makes sense in the market these days as CNH, KRW and TWD are moderately underperforming, so should they be weaker? But things could get worse before better with the Korea 10-day trade data circled on my calendar.
The RBA giveth and taketh after Governor Lowe says a lower AUD would be helpful, which comes on the heels of his earlier comments which sounded like a governor at the helm of a central bank that was is in no hurry to cut rates. In one of the quicker RBA flip flops, maybe he's in a rush as a reality check sets in regarding adverse domestic knock-on effects from the novel coronavirus triggered commodity rout sets. The Flu does seem to work in mysterious ways on central bank behaviors.
The Euro continues to languish through the Risk-on Risk-off (RoRo) cycle. There's no haven appetite as Europe has the developed world's lowest real yields. But when risk appetite turns on, because of those low yields, the Euro becomes the world's best funder as everyone short trades the Euro to fund those EM carry trades. It's a continuous cycle of "lose-lose" for the Euro in a RoRo environment. 
Besides, the RoRo real yields are a significant driver of currencies at the moment. In a "risk parity" world, currencies with high real yields (high rates, low inflation) are a desirable destination for bond inflows and will stay healthy. Those with meager yields become engaging funders and will weaken.
World best: Mexico, Russia, Indonesia
World worst: Hungary, Eurozone, Sweden 
One of the best charts to conceptualize real yields.
With a litany of ASEAN central banks cutting interest in the face of weaker economic growth, ASIA China sensitive FX may not be the best place to hold currency balances with the US dollar holding firm – let alone leveraged foreign exchange risk over the short term, given the market RoRo proclivities around the key bellwether USDCNH. On the other hand, with the Eurozone reportedly stepping up to the fiscal plate, this could make things slippery with USD/ASIA lower next week.
While the Wuhan rebound trade could be a home run this year, traders may feel more comfortable getting the China's widely expected doomy high-frequency data and regional export numbers (which are going to be weak) out of the way before entering the rebound trade.
Oil markets
Honestly, every time I read an OPEC headline I have thoughts of The Little Dutch Boy putting his thumb in the dike.  
One might be wrong to think that there's no more downside for oil, now that Brent has reached the lower 50's. The market is struggling with yesterday's proposal from OPEC's Joint Technical Committee for an additional 600kb/d cut from the OPEC+ alliance that would run at least through mid-year. This has failed to alleviate the pressure on oil, in part because the proposal has yet to be formally discussed by OPEC ministers and also because Russia continues to push back against further cuts. And if the cartel fails to reach an agreement, there'll be more pain to come in oil downside.
There is a clear fundamental cause why oil prices may settle lower. Demand is not sufficiently responsive enough to lower prices and, outside of OPEC, US tight oil stands as the quickest responsive supply to prices. To curtail drilling activity meaningfully, US oil prices may need to drop below USD 50/bbl for a lengthy period. And that would bolster my views from earlier last week that demand devastation of huge portions – like what's happening in China – could set the stage for a shift in oil prices towards those critical break evens before relief sets in.
But what continues to be absent in the oil narrative these days is that OPEC's total share of the oil market has fallen to 35%; they no longer have a monopoly on oil prices. 
And while there's rationale for "nyet", given Russia break evens are much lower and Alexander Novak threw cold water on hopes for a short-term OPEC cut, even a "dah" response might not be sufficient enough compliance response. 
But let's not try to sugar coat things here: with nearly 50% of China's industrial complex shuttered we're headed for one of the worst Q1 economic growth periods on record. With a significant haircut yet to be completely factored into the equation, for the finely tuned global oil supply balances it will be the equivalent of mixing oil and vinegar: they don't mix.
Gold markets
Stephen Innes, the Chief Market Strategist at AxiCorp Financial Services Pty, explained that the coronavirus-driven "sell-off in equity markets would likely drive gold demand over the short term. The more rapid pace of contagion will represent another significant headwind to global growth, bullish for gold". (Bloomberg, January 28)
Gold demand endures, given growth uncertainties around the coronavirus effect. This is despite a plethora of bearish inferences last week, but the most significant determinant of risk is the virus effect.
The gold seasonality effect is ebbing.
The Wuhan shock and awe fear are receding.
US exceptionalism inflows are punching both SPX and USD tickets higher.   
US 10-year yields have begun to move off their post-coronavirus lows and less easing is being priced in, yet gold endures.
Why is gold so strong? Wednesday's strong ADP payroll result has put the USD back on top as king of the hill and the US currency looks firm. Equities have been surging, with new highs hit in the US and European markets, and bond yields have been nudging higher. All this implies lower gold prices. Not to mention weak EM physical demand, where the bulk of the world's gold bullion is purchased. Yet gold remains firm.
Ultimately in this Risk-on Risk-off environment, gold is perceived as a fantastic asset to hold if equities correct. Investors do not have, in many cases, better alternatives with the bulk of government bond yields globally still negatively yielding. So, gold remains bought for portfolio diversification and as a quality asset, which seems to have room to outperform other safe havens regardless of whether risk sentiment deteriorates further given its strong inverse correlation to lower short term interest rates.
In short, gold offers an excellent hedge with the market possibly returning its focus to US-China trade headlines, plus US election risk comes into focus. 
Twitter Follow
Finally, after 8 years, I'm starting to get more active on Twitter where I'm sharing interbank views from an assortment of top tier global banks I'm in contact with; follow me and I'll be sure to follow you back.
Also, I'll provide a weekly follow recommendation. It's not always the most followed accounts that offer the best insight – in fact, I tend to find a lot of them are only interested in creating controversy. This week, heads up goes to Gaurav Sharma who is an absolute wealth of knowledge when it come to oil markets. I'm heavily involved in the global oil community and I rate him near the top.  
 The information is not to be construed as a recommendation; or an offer to buy or sell; or the solicitation of an offer to buy or sell any security, financial product, or instrument; or to participate in any trading strategy. Readers should seek their own advice. Reproduction or redistribution of this information is not permitted. 
More on this topic
See More News