London Open: Record US GDP shrinkage puts full scope of pandemic on show
Market Analysis - 2 Min Read

Stephen Innes | 31 Jul 2020
While gold retreated overnight after a nine-day rally that included a record high built on positive results from a vaccine study curbing demand for the metal as a haven and spurring investors to cash in recent gains. 
Gold traders are finding the EURUSD ripping higher to 1.1900 too tempting to resist buying a few clips at the Asia open. Even more so, with the full scope of the pandemic's toll on the US economy on display Thursday, when government officials reported that gross domestic product shrank the most on record in the second quarter and 17 million Americans claimed state unemployment benefits in mid-July.
Asian stocks are trading somewhat muted on the final day of the month, despite earnings from technology giants boosting US equity futures. However, the China A50 seems to be showing no fear of the virus and is ripping higher out of the gate, led by similar leadership type stocks (Tech) that are keeping US equities frothy.
After paring some gains into the Asia open, e-mini (S&P futures) are shifting higher again after local traders digested the poor run of US economic data overnight but seemed quickly to file it under yesterday's news. So, I suspect we'll see a bit of a catch-up play on Asia bourses, especially with the dollar trading down. It seems to me that no one is really caring about the virus again as the Fed and government policy will continue to provide a bridge until the point when a vaccine is in hand. 
Apple Inc. reported quarterly revenue that crushed Wall Street forecasts after locked down consumers snapped up new iPhones, iPads and Mac computers to stay connected during the pandemic; the stock jumped about 5% in extended trading.
With the USDCNH trading lower and the street thinking month-end rebalancing will be mute this month, the G-10 pass through traders in Asia are filling hedge fund orders to buy EURUSD and GBPUSD this morning. However, it will be interesting to see what the Spec desks in London will do in the run-up to the month-end fix. 
Oil is doing little today as it seems that, after yesterday's clear out, no one in Asia is willing to touch that hot potato today. But the skew remains lower.
For more market insights, follow me on Twitter: @Steveinnes123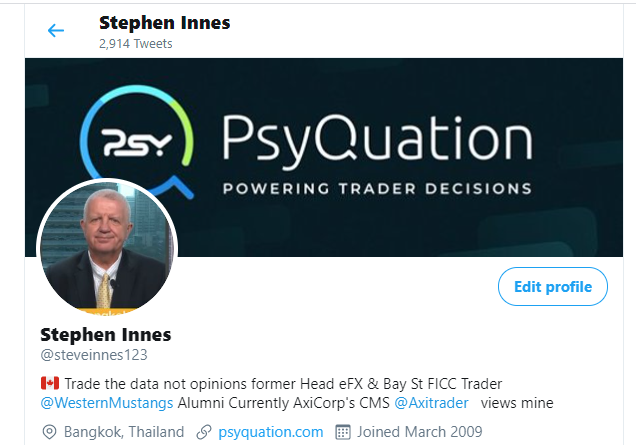 The information is not to be construed as a recommendation; or an offer to buy or sell; or the solicitation of an offer to buy or sell any security, financial product, or instrument; or to participate in any trading strategy. Readers should seek their own advice. Reproduction or redistribution of this information is not permitted.
More on this topic
See More News