London Open: Optimism giving way to de-risking into the weekend as traders dust off old playbooks
Market Analysis - 2 Min Read

Stephen Innes | 10 Jul 2020
Optimism is giving way to de-risking into the weekend as there's no way to sugar-coat – let alone the Fed papering over – the new daily Covid-19 cases hitting 60k in the US for the first time on Thursday. At the same time, California, Texas and Florida reported their highest number of deaths yet. 
The US dollar is mostly firmer against G10 FX, albeit modestly. 
AUD is lower given high negative correlation to US equities and CAD correlation to oil are the two most vulnerable to USD strength in the near term. EM FX, by contrast, is looking to China's buoyant equity markets and this week's sell-off in USDCNH for direction.
 
But with reports of Chinese authorities cracking down on margin financing for equities again, this could take some the sheen off the Chinese stock market frenzy and CNH bullish sentiment into the weekend. But I think moves above USDCNH 7.00 could be faded as the crackdown might be a little too late as it might be hard to control their raging China bull market leverage – or perhaps not, as Chinese investors are very entrepreneurial when it comes to sourcing margins. 
 
Even yesterday there was a reluctance to take on risk despite the strong US cyclical rebound implied by consensus-beating activity data. Instead, equity and gold markets are taking their cue from the UST market, where traders don't seem overly convinced that the V-shaped recovery will continue beyond the near term. 
 
The US initial jobless claims best summarize the unease between the short and medium-term risk coming in lower than expectations but remaining stubbornly high. The labor market is healing, but slowly.

These are not insignificant signposts.
So, beyond the virus beat down and weekend de-risking, the more uncertainty grows around the economic recovery front, the more cause for investors wanting to book profits – even if volatility is not picking up that much. 
 
Even if there was an uptick in vol, it's unlikely to last exceptionally long; central bank activity has put paid to that for the time being. I suspect that people considering going long vol are thinking about what happens when vol does pick up. The bid to offers spread would be so wide to the extent it would become troublesome to monetize your trade as you'll have difficulty crossing a vast "bid to offer" spread.
 
Oil market
With Covid-19 weekend playbooks getting dusted off again, I suspect few oil traders will be looking to place significant bids in the market today, suggesting prices may continue to wallow into the weekend. 
 
Gold markets 
 
Long gold traders are looking to book profits while fast money speculators continue to sell on upticks trying to drive gold below $1,800 and trigger some stops into the weekend. Given the considerable build on ETF gold, a long positions squeeze on gold isn't out of the question.
For more market insights, follow me on Twitter: @Steveinnes123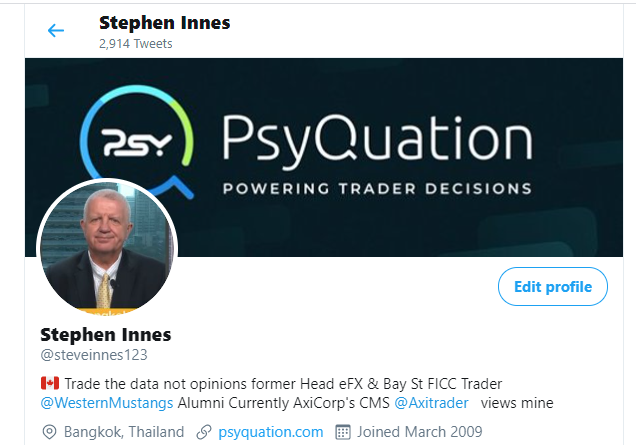 The information is not to be construed as a recommendation; or an offer to buy or sell; or the solicitation of an offer to buy or sell any security, financial product, or instrument; or to participate in any trading strategy. Readers should seek their own advice. Reproduction or redistribution of this information is not permitted.
More on this topic
See More News