London Open: Maybe there's just too much hope built into expectations, given that policymakers have done a fantastic job.
Market Analysis - 3 Min Read

Stephen Innes | 15 Jul 2020
Maybe the best thing you could do right now as an investor is to ignore the red flashing headlines and focus on the price action. There are plenty of hot takes on why we should not buy stocks, but price action in the last two sessions tells me that investors have no interest in being short, and again that wall of money argument resonates. 
A market that's ignored virus resurgence concerns and US-China tensions is now suddenly supposed to start worrying about earnings – that never made a great deal of sense to me. Sure, there may well be some profit-taking due to the run the market has been on, but then we go back to the wall of money argument time and time again. Booking profits is all very well and good, but the way this market seems to be heading in, it's not clear you'll be able to repurchase those stocks so readily again.

Maybe there's just too much hope built into expectations, given the policymakers have done a fantastic job supporting the market and injecting confidence.
 
Forex markets
Overnight equities ground higher once again. The USD traded broadly weaker as risk sentiment remained buoyant into the US close. Optimism concerning vaccine progress has helped bolster the tone with futures opening on the front foot, while US-China tensions and rising virus cases seem to have little effect on dampening the mood, for now. Across the board, dollar weakness resonates with equity market gains.
A crucial part of any bearish USD thesis must contain explicit chapters on the EURUSD higher and USDCNH lower.
 
EURUSD rallied through 1.14 ahead of this week's ECB meeting and Special European Council. Lately, the US dollar selloff has stalled, despite real US yields turning more negative. USD resilience could reflect much better than expected high-frequency US economic data. However, given the recent uptick in virus cases in the US, where 'rolling lockdowns' prove more pervasive, the data could buckle. On the other side of the coin, the Eurozone is not seeing as sharp a bounce in business confidence surveys. Still, given they've better controlled the virus spread the EU could experience a lower-volatility and more enduring economic recovery than in the US.
 
Fed Governor Brainard went further than recent Fed speakers by endorsing yield-curve control, which would set the USD up for a more pronounced and broad-based weakness and should see gold float higher. The market is pricing low rates for longer in US rates front end. In addition to QE, the Fed could use yield curve control, focusing on 3y tenor, which is holding nominal and real returns down in any case. 
 
The ongoing decline in US real yields (10y: -0.79%) is raising more than a few eyebrows. It typically suggests USDJPY should be trading much lower on real US-Japan yield differentials ahead of the Bank of Japan meeting today. 

USDJPY has been slow to rally in tune with more positive risk sentiment since March, suggesting that relative real yields are weighing on the cross. Still, selling USDJPY remains a counter-trend trades as JPY crosses continue to trade constructively, supporting USDJPY on dips. 
 
Oil markets 

Asia oil traders may at first blush view the considerable draw in crude oil inventory survey as an opportunity to take profit ahead of what's expected to be a production cut taper announcement at today's JMMC meeting. 
 
But bullish for oil prices was that the API reported a draw of 3.611 million barrels of gasoline for the week ending July 10, compared to last week's 1.825-barrel. Indeed, the virus fear was not as overwhelming as thought since the survey data captured the essential July 4 holiday weekend driving splurge. 
For more market insights, follow me on Twitter: @Steveinnes123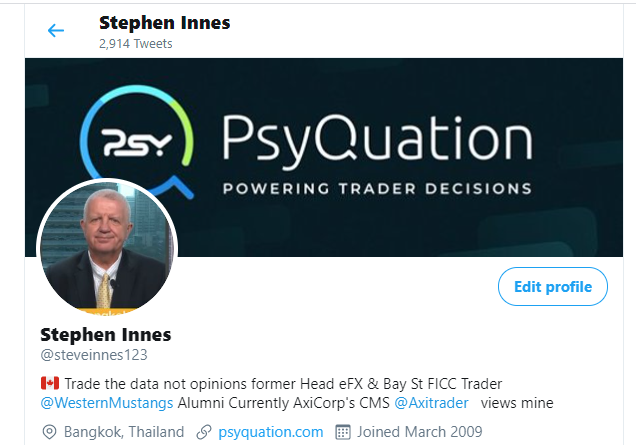 The information is not to be construed as a recommendation; or an offer to buy or sell; or the solicitation of an offer to buy or sell any security, financial product, or instrument; or to participate in any trading strategy. Readers should seek their own advice. Reproduction or redistribution of this information is not permitted.
More on this topic
See More News