London Open: Dominoes trying to line up for a US equity market correction lower.
Market Analysis - 3 Min Read

Stephen Innes | 14 Jul 2020
Besides the high level of uncertainty around US bank earnings this week, the critical risk to the sharp economic rebound that's continued to support equity markets during these trying times is rolling back mobility improvements following economic lockdowns.
So far, equities, credit markets and the US dollar have broadly shrugged off rapidly-rising new Covid-19 cases in the US southern states. A five-patient daily decline in the number of hospitalizations in Texas to 10,405 on Monday – which has the highest number of Covid-19 patients in the US – is the first fall since June 28.
However, California's steps to introduce statewide restrictions on businesses – including gyms, bars and restaurants – highlight the risk of rolling lockdowns that could undermine the V-shaped recovery narrative. Indeed, US 'flash' PMIs (July 24) will provide the precise color on whether the recovery is tapering off as Google mobility data suggest improvements have flattened out over the past two weeks. 
Meanwhile, in Hong Kong the government reintroduced limits on public gatherings in response to a growing number of locally-transmitted cases.
The US relationship with China, jobs and law and order form the troika of issues that will serve as the primary platform for President Trump's re-election campaign. Growing US-China tensions are now a daily breakfast staple and will likely remain so into the November election.
What's suitable for the Trump re-election platform is that criticizing China is not having any material effect on the stock market, so he'll continue to lay down the lumbar until the market reacts. The latest salvo from the US is entering territorial disputes in the South China Sea, with Secretary of State Pompeo calling for protecting "freedom of navigation."
Gold 
Gold traded higher in Asia and Europe yesterday but faltered in the US market as stocks moved lower; that's counterintuitive to a degree as a weakening in risk sentiment usually helps to rally gold. 
Once again, gold seemed to gain on equity market strength, stemming initially from Chinese equities, which carried over to Europe. Even the risk unnerving lockdown in California is failing to float gold this morning. 
People who were buying gold yesterday, hedging against the anticipated weaker US dollar are selling today as the Greenback's safe-haven appeal is kicking in once again. And with both copper and oil shifting lower as lockdown fear spreads, the reflationary impulse that was getting expressed most succinctly via China equities market is also on the outs today. 
All in all, it has the makings of a negative trifecta for gold this morning. But given the incredulous amounts of stimulus in the markets, risk assets – including gold – won't run too far from their current trends.
Forex 
I'm not sure if it's the "risk-on" enthusiasm in FX or the overall market zest for currency trading that's been showing some signs of exhaustion this week. 
Even after China's equity market scaled new highs, initial gains in the likes of the AUD, NZD and GBP have faltered at generally elevated levels. The equity markets are perhaps content to froth on abundant liquidity and hopes for upbeat guidance from corporates as we enter the Q2 earnings season. Still, FX needs something new to provoke a break out of recent ranges. In the meantime, traders have again been tethered the hyper-reactive risk sentiment yo-yo string. 
EUR-USD is struggling for direction this morning in what could be a busy week in Europe, but the market needs to see a unified EU policy front – not just the occasional bit of lip service – before pushing the Euro higher.
For more market insights, follow me on Twitter: @Steveinnes123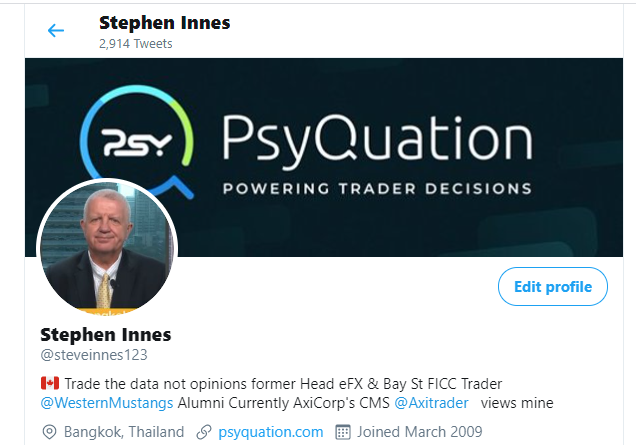 The information is not to be construed as a recommendation; or an offer to buy or sell; or the solicitation of an offer to buy or sell any security, financial product, or instrument; or to participate in any trading strategy. Readers should seek their own advice. Reproduction or redistribution of this information is not permitted.
More on this topic
See More News