London Open: A quiet start to a week that's packed with data critical to risk sentiment
Market Analysis - 2 Min Read

Stephen Innes | 29 Jun 2020
It's been a quiet start to the week in Asia thus far; despite rolling coronavirus containment concerns in the US that suppress risk sentiment, most assets are trading at or near Friday's close at today's open. 
Lower US real yields are in focus at the top of the week. US 10y real yields are down about 16bp so far in June, at -0.70%, the lowest since April 2013. Whether the low and falling real yields reflect a shortage of safe assets globally beyond the UST market or reveal a pessimistic economic outlook, it doesn't matter one iota to gold as ultimately the yellow metal is benefiting, with prices near 8-year highs.
The market remains relatively sanguine by the deteriorating health situation in Florida and Texas, as improving cyclical data is keeping investor sentiment afloat for now. 
China's building economic recovery could power the differentiation in currency markets as well as buttress global risk sentiment with China's industrial profits which were released over the weekend and are up 6.0% y/y in May, from -4.3% y/y in April.
Equities and risk markets are generally struggling, but there aren't any signs of a broader risk-off/contagion just yet. Still, with Covid-19 filling the airwaves, investors have been uncomfortable chasing the market higher. And with the central banks fully priced, I suspect they'll be quick to take profit on upticks given Q2 rebalancing and the significant data risk events that lie in wait. 
Indeed, this is a critical data week for risk sentiment. Investors will try to gauge the impending shift from rapid data improvement to economic stability and turn their focus (outside of headline bombardment) to the speed and level of recovery that so far remains well below average.
FX markets are again struggling for direction, and what appears to be going through seems to be mostly calendar-related flows. Unless you have a stable currency conviction, there's no harm sitting month-end out as you can always get back into the positions in July as it's unlikely things are going to look much different ahead of this week's NFP.
For more market insights, follow me on Twitter: @Steveinnes123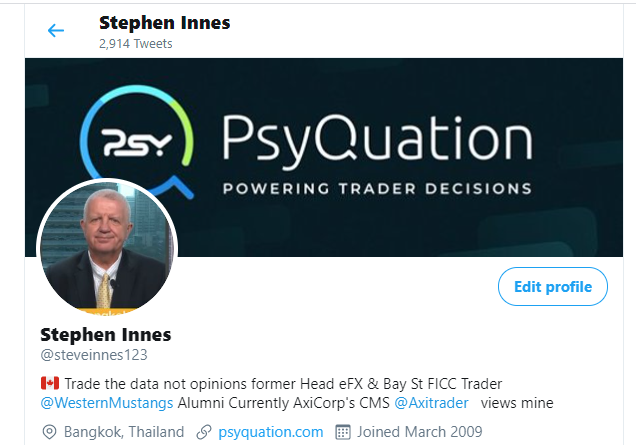 The information is not to be construed as a recommendation; or an offer to buy or sell; or the solicitation of an offer to buy or sell any security, financial product, or instrument; or to participate in any trading strategy. Readers should seek their own advice. Reproduction or redistribution of this information is not permitted.
More on this topic
See More News