European Central Bank Keeps Rates on Hold, Warning of Downside Risks
Market Analysis -

| 11 Apr 2019
The European Central Bank (ECB) keeps rates on hold.

Draghi tells market to expect rates to remain at current levels until the end of 2019.

The Euro reacted initially by moving sharply lower but has since recovered.
Following the European Central Bank's (ECB) decision to keep rates on hold, Draghi suggested via his press conference that the ECB sees rates at the current levels through to the end of 2019.
Draghi stated, 'Based on our regular economic and monetary analysis, we decided to keep the key ECB interest rates unchanged. We continue to expect them to remain at their present levels at least until the end of 2019.'
Following the dovish theme of central banks around the world, Draghi pointed to the negative impact that slowing economic conditions have had and uncertainty around geopolitics, protectionism and emerging markets.
Draghi confirmed that the ECB's bank-loan program would continue for an extended period, past the first rate hike.
But, as is prudent of key central bank figures around the globe, Draghi did suggest that further information is needed between now and June in relation to a rate hike.
Key technical levels to watch on the Eurodollar
When you take a step back on the Eurodollar, it is clear the currency has been struggling. With successive lower highs, the price action has been bearish starting way back in 2018.
Source: AxiTrader
It is clear the long-term moving average, in this case, a 100 period MA, has been trending significantly lower since 2018. The only positive, if there are any, is that the recent consolidation has decreased the intensity of the slope of the moving average.
As a result of the recent consolidation, we are seeing more of a descending triangle formation or falling wedge depending on where you draw your current levels of support.
If there is one hope for the short-term bulls, it is that the recent low on the 2nd of April was higher than the previous low on the 7th of March, but only just. Further to this, the high on the 20th of March eclipsed the previous high on the 28th of February, leaving the possibility open for a potential higher high from current levels.
Following Draghi's comments, we did see the Eurodollar on the 5-minute chart move swiftly higher, only to be sold down some 58pips from the intraday high to intraday low. This took just 55 minutes of trading.
The Eurodollar has since recovered from the early sell-off.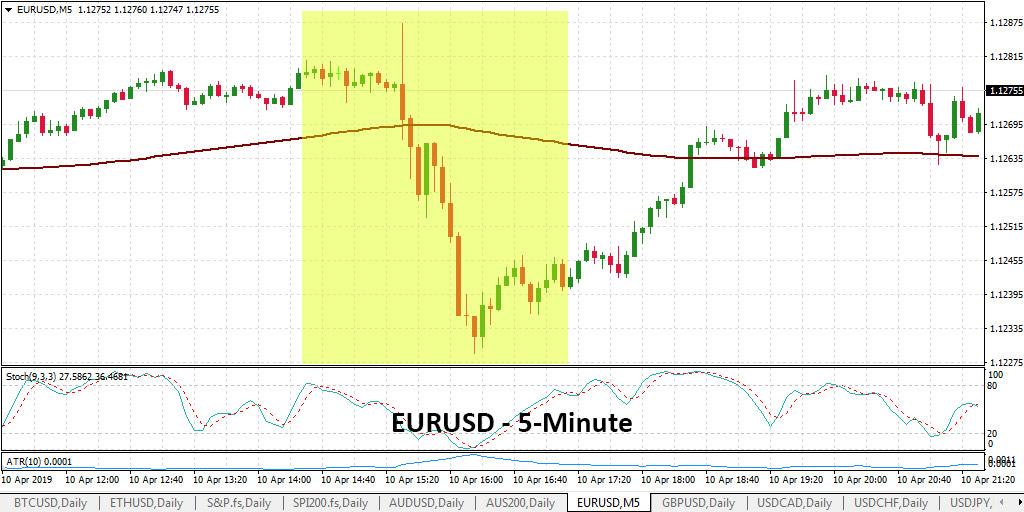 Source: AxiTrader
The information is not to be construed as a recommendation; or an offer to buy or sell; or the solicitation of an offer to buy or sell any security, financial product, or instrument; or to participate in any trading strategy. Readers should seek their own advice. Reproduction or redistribution of this information is not permitted.
More on this topic
See More News