Chart of the Week - US wages hit a 9 year high reinforcing USD primacy in forex markets
Market Analysis -

Greg McKenna | 10 Sep 2018
Average hourly earnings in the US accelerated at a 2.9% pace year on year during August. That's the fastest rate of growth by this measure since June 2009. 
Futures traders now see the change of another FOMC rate hike this month to 98.4% while a December rate hike's pricing increased to 72% with another hike by March 2019 increasing from 33% to 43% after the data. 
This combination saw the US dollar make strong gains across the board as the data and comments from Fed officials, reinforced the divergent path the Fed is on when compared to many other central banks.
Are we there yet? 
That's the question policymakers at the Fed will be asking after Friday's 0.4% increase in average earnings doubled expectations for the August increase and in doing so increasing the pace of earnings growth to the fastest pace since June 2009. 
It's an indication that with the labour market finally tightening wages may be about to genuinely break out of the recent range.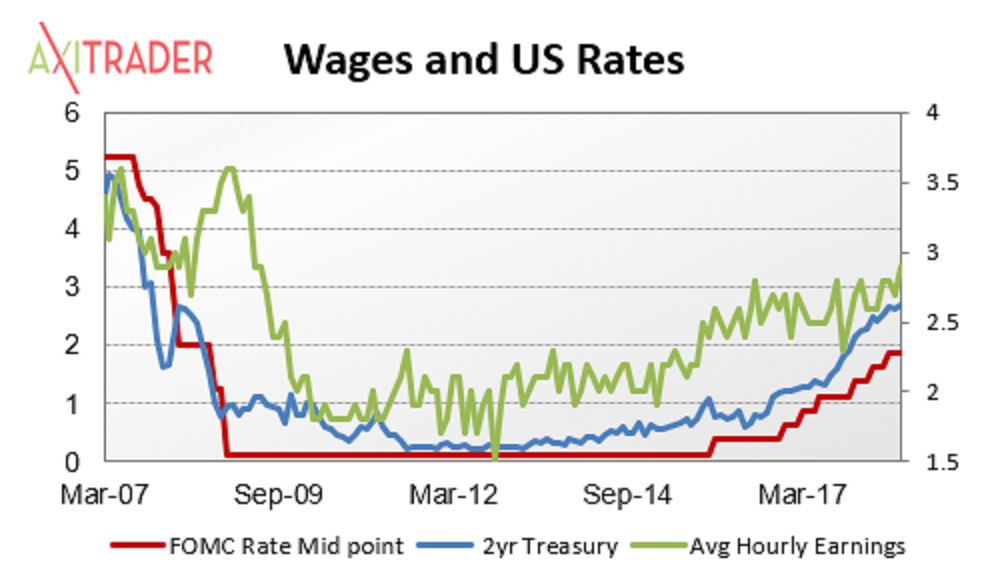 And that, as futures traders are starting to price, means the market may need to be paying more attention to the consistent Fed message that rates are heading higher and less attention to minority doves Kashkari and Bullard's consistent message that the Fed is making a mistake. 
Indeed while Cleveland Fed President Loretta Mester said Friday's jobs data showed a solid economy she noted there is no breakout of inflation and thus the gradual pace of Fed rate hikes Fed chair Jerome Powell keeps talking about remains appropriate. But it is also worth noting that Robert Kaplan said again Friday that rates need to rise to neutral but it's too early with that being around a year away to tell where that will be.
Indeed given the 12-month rate of change is lagging the implied 1 and 3-month rates of change, Kaplan and his colleagues will do well to take their time to assess the data to see if this break out is the real thing. 
For markets though, and for the US dollar in particular, what the increase in wages signals, along with an unemployment rate of 3.9%, jobless claims at levels not seen since 1969, and with solid momentum in the US economy when it is absent elsewhere is that the Fed is walking a different path to many other central banks. 
That, in turn, should reinforce the importance of economic and policy divergence in forex markets. And that, reinforces the primacy of the US dollar which should ultimately push to new highs (Euro lows) for this cycle in the months ahead.  
Whether it's still too soon for that USD breakout to happen given new tariffs expected to be imposed by President Trump on China and the ECB's meeting this week likely to reinforce that its QE program will soon end is problematic. 
For me, the answer lies in the price action. If the DXY rises through 97, or the Euro close below 1.13 we'll have a strong signal the next big USD pulse has begun. 
Have a great day's trading.
Greg McKenna
Chief Market Strategist
The information provided here has been produced by third parties and does not reflect the opinion of AxiTrader. AxiTrader has reproduced the information without alteration or verification and does not represent that this material is accurate, current, or complete and it should not be relied upon as such. The Information is not to be construed as a recommendation; or an offer to buy or sell; or the solicitation of an offer to buy or sell any security, financial product, or instrument; or to participate in any particular trading strategy. Readers should seek their own advice. Reproduction or redistribution of this information is not permitted
More on this topic
See More News