Asia Open: With month-end out of the way, focus returns to data
Market Analysis - 3 Min Read

Stephen Innes | 03 Aug 2020
History teaches that it's unwise to craft a narrative to rationalize August's market behavior. But with CV-19 still wreaking havoc around the globe, it's equally short-sighted to lean on the probability of the seasonal September revival – although it would be great if it happened. 
Was it just me that was blown away by the fact linkers real (inflation-adjusted) 10-year Treasury yields closed at -1%? Anyway, I just had to get that off of my chest… no wonder gold is in hot demand these days!
Regardless of what the fall in yields means, US equities were stronger Friday, the S&P up 0.8% with a tech rally yet again driving the gains. But I think volumes will continue to fall and expect sentiment to remain mixed. 
There appears to a greater tendency to buy on dips rather than panic on negative pandemic news, but after the massive rally in tech, it's not out of the question we could see a trimming of outperformers as the summer doldrums set in. Rising virus numbers and confusing tightening lockdown rules for holidaymakers and general seasonal summer liquidity certainly add to the sentiment.
With that in mind, let's see what happens today. It's Monday and risk usually starts lousy after investors spend the weekend soaking in CV-19 headlines then turn better, so we could see a bit of a recovery from here.
But don't expect much as I suspect a lot of traders are at the beach and that's the primary reason why it's unwise to craft a narrative to rationalize August's market behavior.
Forex 
With month-end out of the way, focus returns to the data as the dollar finished a particularly weak July on a positive note.
For the EURUSD, this week will be about NFP to see if the dollar bulls can climb out of the Q2 GDP hole as Europe didn't fare much better. 
EUR-USD moved briefly above 1.19 on Friday before surrendering as FX traders over-hedged EURO downside risk at the London FX ahead of some expected left-hand side flows as the  German health group Siemens Healthineers said it would acquire Varian Medical Systems in a deal that values the US maker of devices and software for cancer treatments at $16.4bn.
Also, the unquenching need for headline hot takes since GS's Jeff Currie wrote last week that "real concerns around the longevity of the US dollar as a reserve currency has started to emerge" has faded. It seems questioning the US dollar reserve currency status is turning into an annual rite of passage that crops up every time the dollar wobbles and gold rises. It's sort of reminiscent the 51 times the typewriter was invented before officially receiving its patent. 
Finally, As Fed Chair Jerome Powell noted last Wednesday, the path of the economic upswing would largely be determined by the path of CV-19. I think he's wrong; the fear of the virus will determine the path of the upswing as economies will never move again to a sudden stop or complete lockdown.
For more market insights, follow me on Twitter: @Steveinnes123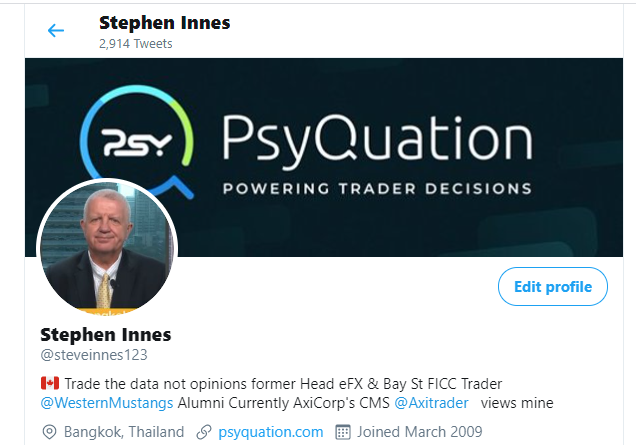 The information is not to be construed as a recommendation; or an offer to buy or sell; or the solicitation of an offer to buy or sell any security, financial product, or instrument; or to participate in any trading strategy. Readers should seek their own advice. Reproduction or redistribution of this information is not permitted.
More on this topic
See More News