Asia Open: Time to dust off the Covid-19 weekend playbooks again as a gnarly week comes to an end
Market Analysis - 4 Min Read

Stephen Innes | 10 Jul 2020
US equities were weaker Thursday, S&P down 0.6% as three US states posted record single-day increases in Covid-related deaths: Florida, California and Texas. US10Y yields fell back 5bps to 0.61% as White House infectious-disease expert Anthony Fauci advised that states with large scale outbreaks should "seriously look at shutting down" again. European stocks are weaker and Asia better, with China's CSI300 up another 1.4%. Oil is down 3.1%.
US jobless claims were slightly better than expected; I'm a big fan of continued claims as they provide a more concise view of the reabsorption of workers into the labor force.
Continued claims came in at 18.062 mn, lower than forecasts for 18.75 mn, and after 18.76 mn, revised down from 19.29 mn. There was some good news in that unemployed workers seem to be finding jobs. But the figure is hardly falling rapidly, which is the concern – especially with the most populous US states reimposing lockdowns. 
It's a gnarly way to end the week as traders around the globe will need to dust off the Covid-19 weekend playbooks once again and will likely put the first preface into play, which is to take some chips off the table. 
There are several issues at play today. 
The Supreme Court will permit President Trump's tax returns to be handed to a New York grand jury, potentially complicating his re-election chances. Then there's the never-ending US-China diplomatic noise, this time in the form of fresh US sanctions on several Chinese individuals. Meanwhile the stubbornly high new infection rates in several US states raises fears of further economically damaging lockdowns.
For broader risk markets, it's the worrying virus case counts raging across California, Texas and Florida that the most significant concern.
But, under the hood, the market has been trading very defensively for a few days now, with mega-cap Tech the only outperformer while cyclicals and reopening names have underperformed over the last five US sessions. Investors were growing weary of fighting the Covid surge headlines and were also taking note of a chorus of Federal Reserve Board members who have been out en masse all week putting up "dangerous curve ahead" signs on the economic road to recovery. So, while the virus spread in the US is a risk to the outlook, the extremely low positioning outside the mega-cap growth stocks gives investors some comfort to maintain cyclically and stay at home exposure and continue to buy those dips. 
While the market is concerned about the uptick in cases globally, given the ample liquidity backdrop, money is funneling into perceived safe areas of the market like Tech, which should hold up broader indexes to a degree.
Forex 
Even the best-laid plans go awry, especially in FX. 
What was interesting in Asia and UK trading was that "risk on" currencies held on but were reluctant to punch higher, despite the better tone in equity markets led by continued gains in China and the tech sector. This suggests there were some doubts whether now was the time for a good old-fashioned reflation trade driven by government spending, central bank liquidity, moral suasion (China telling citizens to buy stocks) and some quirky supply issues in copper and lumber. 
Despite the Forex market's fickleness and risk on risk-off proclivities, I still see this as a textbook USD down environment and there's no reason to stand in the way; stay long Euros into the EU Summit and stay long whatever else you like against the USD (XAU, XAG, EM, etc.)
Although some profit-taking set in overnight on correlated US demand safe haven flow, the CNH rally has more legs to run. Despite the recent currency movement, the PBoC has maintained its relatively hands-off approach toward the market and not seeming overly fussed about the stronger Yuan. Although CNY has appreciated by 0.63% against the CFETS trade-weighted basket over the past week, the basket is still ~3% below this year's high (95.5). And the flow dynamics look equally supportive as there's no reason for the offshore portfolio flow to reverse tides as China, through state media, hung out the "we're open for business" sign. 
Of course, the tail risk to this view is US-China relations falling prey to US election dynamics, but with Biden up in the polls this fear has been mitigated. 
I still like the KRW, but until we get a material shift in export growth or a further correction lower in the DXY triggering a resumption in equity inflows, it's overweight CNH for the time being.
Gold 
After pressing above USD1,800/oz, leveraged investors have pulled back on buying gold and started to take profit, especially as stocks to a degree continue to look through the Covid surge.
After a significant psychological breach, a correction is not unlikely and would be a healthy development; many gold traders wouldn't be surprised to see a sharp and shallow sell-off of 5-10% and a reduction in leveraged tactical longs could drive this. 
If you want to buy that dip, consider that the "I'm long but would like to get longer" mantra has never been echoed so loud in the gold market in the 20+ years I've been active in the markets. 
For more market insights, follow me on Twitter: @Steveinnes123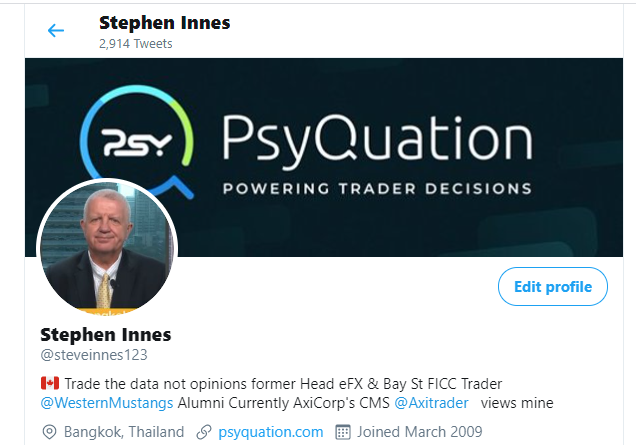 The information is not to be construed as a recommendation; or an offer to buy or sell; or the solicitation of an offer to buy or sell any security, financial product, or instrument; or to participate in any trading strategy. Readers should seek their own advice. Reproduction or redistribution of this information is not permitted.
More on this topic
See More News