Asia Open: The halfway watering hole where nothing looks inviting to buy or sell
Market Analysis - 4 Min Read

Stephen Innes | 09 Jul 2020
US equities were stronger Wednesday with the S&P rising 0.8% –though, again, it's a struggle to find a dominant narrative that's driving sentiment. European and Asian stocks were mostly weaker and China remained an outlier with a 1.6% rise in the CSI300 – its seventh consecutive gain. US10Y yields were up 2bps to 0.66%. 
The uptick in sentiment seems unrelated to any specific news flow as most of the offered-up market stories could have been applied equally over the past two weeks. For the time being, it seems investors are content to ride the narrow ranges. 
Anecdotally, equity traders are unusually quiet as many have lots of time right now to chat; I have had several with colleagues from Singapore to New York and a few in between, and it seems most have taken books down due to the lack of conviction with few new catalysts to trade. They're not up for trading the day-to-day swings anymore, thinking it's too easy to get steamrolled with market-priced liquidity as terrible as it is right now.
Trading ranges continue to narrow as exchange volumes dwindle. Summer markets yes, but also reflective of the fact that no one has seems to have much conviction on anything right now. The more uncertainty grows, the less activity will be pick up as traders remain mired in the "only do what you have to do" frame of mind. 
Moves that do occur tend to get magnified or blown out of proportion. For example, people focused on the weakness in US equities yesterday, with the SP500 closing down just over 1%. That's the first down day in five sessions and hardly a reason to get overly excited.
But a few alarm bells are sounding, none more so than the chorus of Federal Reserve Board members who were out en masse putting up "dangerous curve ahead" signs on the road to economic recovery.
While there are concerns about what lies ahead, there's extraordinarily little interest in fading the move right now. We seem to be in this halfway watering hole where nothing looks inviting to buy or sell. Volatility is also drifting lower due to a combination of reduced activity because no one has a view and the rates markets, at least in the 0-10y sector, are not going anywhere for the foreseeable future with the Fed at 0% for as far as the eye can see. Even if there was an uptick in volatility, it's unlikely to last exceedingly long due to the massive central bank "PUT" and their timely responsiveness to a crisis.
Currency Markets 
The Hong Kong situation remains relatively stable due to HKMA intervention, which injected HKD15.764bn to defend the dollar peg. As HKMA intervention continues, it implies a need to sell USD and buy EUR to rebalance the sovereign portfolio. This sovereign rebalance flow could contribute to the upside momentum of EUR.
There's nothing thematically different today as the currency markets remain tethered to a very reactive risk yo-yo
Gold Markets
Gold prices rose above the $1,800 level on Wednesday for the first time since September 2011, taking the commodity's gains from 2020 to about 19%. The big question is what happens next: will the market extend the move to all-time highs, or will profit-taking set in?
Gold price action mirrors post-GFC patterns in several key ways, namely inflation break evens coming back and real Treasury rates dropping. 
The recovery in inflation expectations can go further as copper and oil prices find a more solid footing and thereby drive gold higher even if nominal rates stay flat. Indeed, a redoubtable combination for the yellow metal has put the gold market in "rude health".
But other gold buyers are looking through the run of robust US data thinking that mind June was a sweet spot in the high-frequency metrics, and things will go downhill from here due to Covid-19 resurgence, particularly as investors anticipate further policy stimulus. Specifically, gold still appeared to gain traction on carryover buying from comments made by regional Fed Presidents Bostic and Daly the previous day, cautioning that the economy may be plateauing.
Gold has climbed through the RSI 70 market overnight and, in terms of the ETF build, there's been $35 bn in the year to date (22.74 m ozs), which represents nearly two times the previous two years' worth of total flows. There could become concerns about the length of the position build.
We could see some profit-taking set in, but with the dollar turning weaker overnight we could see an enduring bid hold in around 1805 as the primary motivator for higher gold prices is concern around the Covid-19. It's hard to ignore the 3 million coronavirus infections stateside, suggesting the long-term economic impact could take years to fix. The resulting unprecedented expansion of monetary policy and the deluge of fiscal stimulus will likely support gold even if we get a vaccine. 
For more market insights, follow me on Twitter: @Steveinnes123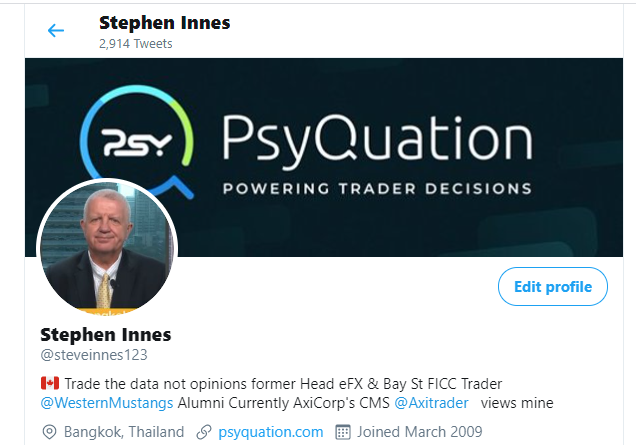 The information is not to be construed as a recommendation; or an offer to buy or sell; or the solicitation of an offer to buy or sell any security, financial product, or instrument; or to participate in any trading strategy. Readers should seek their own advice. Reproduction or redistribution of this information is not permitted.
More on this topic
See More News