Asia Open | Oil: OPEC compliance and a guarantee on the principle of compensation was music to the market ears overnight
Market Analysis - 3 Min Read

Stephen Innes | 15 Jul 2020
Risk assets closed on a more favorable note Tuesday after news broke that Moderna Inc's Covid-19 vaccine produced antibodies to the coronavirus in all patients in the initial therapeutic trial.
Oil doesn't benefit specifically from the forward-looking conjecture oomph to the extent that equities do around the vaccine, since oil price action is relegated more towards what is happening today. Although, if and when a vaccine is in hand oil prices will moonshot as it will affect virtually every commodity on the planet.
OPEC's Joint Technical Committee says June OPEC compliance with the cut agreement was 112%, and 99% for participating non-OPEC nations for an overall 107% compliance.
The key at Wednesday's OPEC+ meeting will be whether the group decides to taper to 7.7mb/d, as planned from August, or extend 9.7mb/d cuts by another month. Comments so far suggest the group is more inclined to taper.
However, positive for oil prices is that Saudi Arabia is laying the foundations for a relatively smooth OPEC+ meeting on Wednesday, with a joint statement released from the Saudi Arabian and Iraqi Energy Ministries complementing Iraq for progress implementing production cuts.
At the same time, Saudi Arabia's energy minister has also had a discussion with his Nigerian counterpart, following which Nigeria said it would compensate through September for producing over its agreed quota in May and June. 
The guarantee of the principle of compensation was music to the market's ears, as was OPEC compliance which continues to demonstrate unwavering unity within the group. Indeed, presenting a unified OPEC front is the most crucial deliverable at this stage of the oil market recovery. Production policy can be tweaked to fit macro circumstances as needed, but the group must avoid any hint of dissent.
Unnamed OPEC+ delegates suggesting the group will not extend the first phase of production cuts into August provide an excuse for profit-taking. In contrast, the principle of compensation provides an offset to the return of around 2mb/d of OPEC+ production and caused short term oil market shorts to cover.
The return of around 2mb/d of OPEC+ production is anticipated, but risks to demand due to a resurgence in coronavirus infections in some regions had prompted speculation that the initial 9.7mb/d cut would again be extended.
We've been stuck in a very tight trading range for some time, and despite the numerous short factors that may drive intraday momentum – whether it's reimposing short-term soft lockdowns or a US inventory data miss – invariably Brent continues to gravitate back to the midpoint of the market's perceived current bookends ($40-45).
While near-term headwinds remain, the overwhelming evidence suggesting oil is past the trough and that supply and demand are rebalancing – at a gradual pace, mind you. 
We see price action continuously revert to the short term "mean", indicating the markets are finding some semblance of equilibrium that could even extend throughout the summer until the soft lockdowns flatten the US epi curve or the ultimate recession-stopper is in hand, which is of course a vaccine.
For more market insights, follow me on Twitter: @Steveinnes123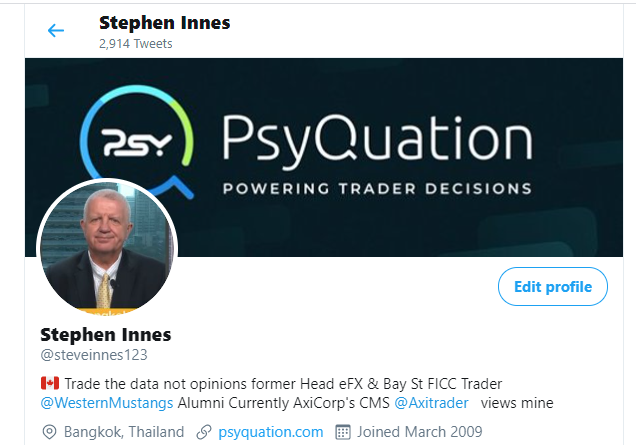 The information is not to be construed as a recommendation; or an offer to buy or sell; or the solicitation of an offer to buy or sell any security, financial product, or instrument; or to participate in any trading strategy. Readers should seek their own advice. Reproduction or redistribution of this information is not permitted.
More on this topic
See More News