Asia Open: Investors continue camping under the tech umbrella
Market Analysis - 6 Min Read

Stephen Innes | 04 Aug 2020
I have a remarkable track record when it comes to raining on the bullish market parade; I've only done it three or four times during this enduring rally, but once again I learned my lesson! 
"You pray for rain, you gotta deal with the mud [slinging] too. That's part of the deal." – Denzel Washington, The Equalizer. 
US equities were stronger Monday, the S&P up 0.7% following more considerable gains in Europe and Asia. Tech stocks again led the US rally, while the manufacturing ISM also beat expectations for July. US10Y yields lifted 3bps to 0.55%.
The beat on the US manufacturing ISM continues its recent outperformance, with July printing at a better-than-expected 54.2 and new orders also robust at 61.5. But, like other surveys, employment remains in a contracting territory at 44.3 suggesting it's much easier for stimulus to stoke the manufacturing engines but is less effective at getting people back to work.
Yesterday's mood was brightened considerably with China's manufacturing PMI for July also above market expectations, rising 1.6pts to 52.8, its highest level since January 2011, which lifted commodity markets and wiped away the usual Monday morning blues.
Still, the composition of China's economic recovery offers a roadmap to the rest of the world that's not especially bullish for a consumer-driven rebound. It's easier to normalize the supply-side of the economy than the demand side in a post-pandemic shock environment. That seemed to work well for commodity exporters into China, and the market will take a win as a win. Even oil rose the most in nearly two weeks, tracking a move in stronger equities, as economic data signaled a flicker of life in languishing demand.
But the fact that oil prices continue to stabilize with odds stacked against it is very, very soothing for a cross-asset market risk perspective. 
US equities ground higher on Monday with defensives and interest-rate sensitive sectors (Telcos, Utilities and Staples) underperforming. Tech is in the lead again with focus there shifting to Smidcap earnings this week. At the same time, the M&A headlines are favorable for the tape as well. 
Earnings have come in better than expected. The fiscal debate continues and, on the surface, the risks of no-deal have increased, but I don't think the market is overly worried about that while chalking it up to political grandstanding. 
Asian stocks looked poised for gains Tuesday after a technology-fueled rally in the US amid positive economic data and further stimulus. But who knows – it's August after all.

But it seems investors are already inoculated from the virus while camping under the tech umbrella. This bullish market view is supported by the primary thesis that the market remains lightly positioned in stocks that are at risk to the virus and that the wall of money argument continues to resonate. 
I'm judging by the further gains in the equity market. Investors have little issue fading the Fed's warnings on the economic outlook after a sustained stronger-than-consensus run of financial data to start the month.  
The endless monetary policy response from the Federal Reserve Board also raises the bar for when negative pandemic news hurts risk appetite. But the extent to which equity and energy markets continue rallying and the US dollar sells off on a broad-based basis is hugely dependent on how markets react if improving data stabilizes higher or goes into reverse.  
A better-than-expected nonfarm payroll this week could resolve tensions around the unemployment debate, justify new highs in stock and see oil prices challenging the tops of new ranges. With the Fed likely to remain accommodative for the foreseeable future, this remains incredibly positive for risk markets. 
Currency markets
The Euro
EURUSD is starting the week on the back foot, trading down to near 1.1700 from Friday's high of 1.1909 as the short squeeze that began after the London Fix on Friday was pretty persistent on Monday – this despite European equities trading up 1.5% on Monday after bouncing from the early lows. 
For now, the EURUSD top side conviction has stalled as with Covid outbreaks in Europe/Japan weighing. And with the US tech sector soaring, it's again brought US outperformance to the forefront. Indeed, the higher case counts in Europe and Japan shakes belief in outperformance.
Still, the correction over the last 48 trading hours hasn't weakened the market's bullish resolve. G-10 risk-takers are trying to figure out where to load up and on Euros on dips. While the trend remains clear, the risk is that the market now shifts to a holding pattern for a session or two between 1.1700 and 1.1850 to weed out the weaker longs.
Ultimately, at the end of this period of consolidation the USD will prove to remain unsurprisingly counter-cyclical, outperforming in the 'downturn' and 'slowdown' phases and underperforming during 'recovery' and 'expansion' phase.
The Ringgit
It's refreshing to see the local currency whipping boy competing for top of the charts these days. 
The Ringgit is benefiting from improving regional growth differentials as China's economy continued to recover fast. At the same time, the global market chase for Yield is finding a home in MGS duration as positive real Malaysian yields remains exceedingly favorable when compared to US negative real yields. 
Throw in a dose of stabilizing oil prices and the currency underdog Ringgit continues to show true grit. Also, last week, the Fed extended the FX Swap lines through March 2021, which is alleviating a lot of concerns around quarter-end and year-end funding issues, which is also supporting the local currency landscape. 
Gold Markets
S&P 500 futures rally and the dollar weakens on strong ISM and gold holds firm even as Dallas Federal Reserve Bank President Robert Kaplan, speaking on Bloomberg TV, said he would not be in favor of explicitly tying forward guidance inflation.
Gold remains in a holding pattern, likely ahead of this week's NFP, but got a nudge from a slightly weaker US dollar overnight, However, with negative real interest rates, renewed concerns over inflation, rising US-China tensions and an increase in worldwide Covid-19 cases, demand for bullion has remained firm. 
What's critical to the view from a hedging perspective is that gold investors care about the level of inflation, not the changes in inflation. From a level perspective, inflation hedges like gold are far probably a whole lot cheaper today than when inflation could arrive. 
Finally, what makes gold investing so appealing over the short term or the medium-term perspective is that when US real yields are lower or negative, investors have no opportunity cost in owning bullion, making gold as cheap as chips to carry. 
Still, US real rates continued their decline last week, but the driver switched from higher break-evens to lower nominal yields with the policy rate at zero, the curve flat and breakeven primarily normalized. But with inflation absent, it's hard to see real yields falling much lower in the current environment unless a vaccine becomes available and the Fed commits to YCC. In this context, and given that vol and skew have risen more in gold than in currencies, spot gold could then face temporary consolidation.
For more market insights, follow me on Twitter: @Steveinnes123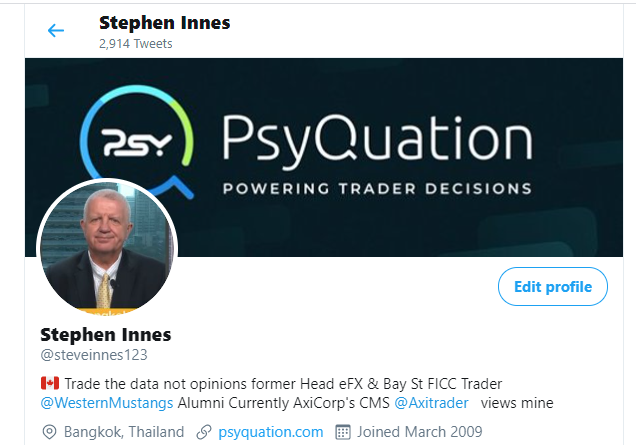 The information is not to be construed as a recommendation; or an offer to buy or sell; or the solicitation of an offer to buy or sell any security, financial product, or instrument; or to participate in any trading strategy. Readers should seek their own advice. Reproduction or redistribution of this information is not permitted.
More on this topic
See More News